Rand Paul's Disruptive SXSW Adventure
The Kentucky senator among the techies.
By and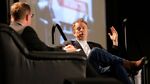 AUSTIN, Texas–Kentucky Senator Rand Paul's weekend of partying and networking in at the annual South by Southwest festival ended in a suite at the Capital Factory complex. RANDPAC would be sharing an incubator space with start-ups like the self-explantory DemandFood and the just-as-intriguing Robots and Pencils. The new office overlooks the city from the 16th floor of a downtown high rise; inside, exposed ceilings and beanbag chairs round out the tech feel.