Rand Paul's Disruptive SXSW Adventure
The Kentucky senator among the techies.
By and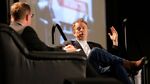 AUSTIN, Texas–Kentucky Senator Rand Paul's weekend of partying and networking in at the annual South by Southwest festival ended in a suite at the Capital Factory complex. RANDPAC would be sharing an incubator space with start-ups like the self-explantory DemandFood and the just-as-intriguing Robots and Pencils. The new office overlooks the city from the 16th floor of a downtown high rise; inside, exposed ceilings and beanbag chairs round out the tech feel.
"People keep asking me: Why are you in Texas and not in New Hampshire?" said Paul. "Well, because I think if you want talent you've got to go to where the talent is." He sported blue jeans and brown cowboy boots–an axiomatic sartorial choice in the Lone Star state.
In choosing Austin, known as the Silicon Hills, Paul is hoping to tap into the city's tech "brainpower" to give the possible 2016 presidential hopeful an edge against Democrats that have trounced his party on the technology front in previous elections. Austin is also the home base of Vincent Harris, the digital strategist Paul poached from Texas Senator Ted Cruz's network. Harris spent the whirlwind first weekend of SXSW alternating between updates on Paul's visit and updates on the general election in Israel, where he'd traveled to advice Prime Minister Benjamin Netanyahu's Likud. 
"I think we've lagged and that's part of trying to start so early," Paul told Bloomberg Politics in a freight elevator that he used to escape fans awaiting him. "I would say President Obama's team exceeded in the last two elections. I think we have an uphill battle, but starting this early I think we have a great chance."
Austin is the destination in an annual music and technology pilgrimage that tens of thousands of people make from around the world to hear live music, watch up and coming films, and learn about the next tech innovation. The festival has become a must-be place for tech entrepreneurs are seeking venture capital. It's also a place for emerging artists to make a name for themselves. Paul was the only potential 2016 presidential candidate who made the trip.
"One of the things I love about the tech community–whether it's here in Austin or the Silicon Valley–is when I meet people, they're not waiting for solutions to come from government," he said. "They're thinking up and creating the solutions to fix the problems on their own. I've been to Washington. Don't wait for any solutions to come out of Washington."
Paul also plugged privacy and education, two of his key issues. 
"We should not have the government looking at our stuff without a warrant," he said to loud applause. He moved on to education. "I want to pound this in. We don't want 15 kids per classroom, we want a million kids per classroom ... connectivity should allow us to have the NFL of teachers."
Among those in attendance included Richard Morgan, the state chairman of the Texas Young Republicans. "Of anybody, he speaks for our generation," said Morgan. "We are concerned with civil liberties. There's been a lot of growth in the federal government, a lot of overreach lately, and he's been a clear, consistent spokesperson against all that."
Morgan said his group voted for Paul in a straw poll last week. "He was the clear favorite," said Morgan, noting that Paul garnered 68 percent of the vote, ahead of Scott Walker and Ted Cruz who came in second and third respectively.
Paul was, of course, on the home turf of Rick Perry, another potential presidential contender who fumbled during the last presidential campaign. "Paul is the clear Libertarian choice, Cruz is the clear Tea Party choice and let's say Jeb Bush is the clear establishment choice. It's hard for Perry to really differentiate himself," said Morgan.
This was no problem for Paul. The senator spent the weekend issuing quick, telling evidence of the trip on social media. Like the millennials he was reaching out to, he commemorated a sunset with a phone photo.
He caught a concert.
He appeared in selfies.
 The next day, after being introduced–as he had been at CPAC–by the Edgar Winter Group's "Frankenstein," Paul sat for a livestreamed interview with the Texas Tribune's Evan Smith. "I'm the only candidate who thinks the NSA program on bulk collection of your phone records should be shut down," said Paul, to applause. "If any of the people who like that look online for an article that says the NSA should be doing that, it may well be that they see an ad from us."
They would see him on the Internet of Things, as well. Paul snapchatted throughout the conference, and used the recently hip app Meerkat to stream live video of his interactions with a few SXSW exhibitors. (The freedom of the app allowed some Paul observers to make vaccine jokes in the margins.)
Paul's conversations were largely one-sided, save for a chat with a company building 3D printers. "What kind of structure do you think you can build?" Informed that the printer could build cones and domes, and use them to help infrastructure recover quickly in disasters, Paul ended the conversation with a "cool, thank you," and spun around right into a fan.
"Mr. Future President," asked the fan, "can I take my picture with you?"
"Sure," said the senator, who is expected to announce a presidential bid in early April.
Paul said his visit, which included part of the weekend in Austin, wasn't all work. "I had a great time jamming with Mark Ronson at the Pandora party," he said.