These New Drugs Could Cut Heart Risks in Half
Michelle Fay Cortez and Caroline Chen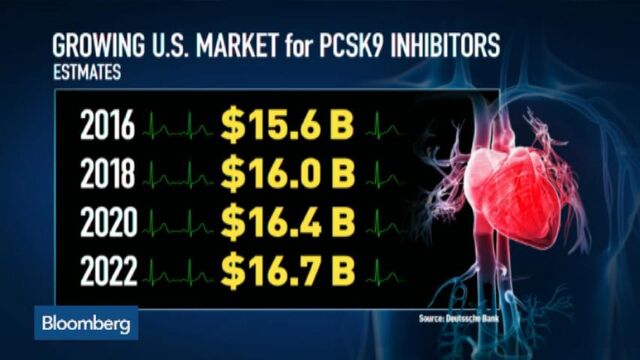 New drugs by Amgen Inc., Sanofi and Regeneron Pharmaceuticals Inc. for treating heart disease, the world's No. 1 killer, are showing signs that they can reduce cardiovascular complications as they lower cholesterol levels.
Repatha, made by Amgen, and Praluent, under development by Sanofi and Regeneron, both cut cholesterol levels by more than 60 percent in studies published Sunday in the New England Journal of Medicine. The trials also showed patients getting the injected drugs were half as likely to die or suffer a major cardiac complication, such as a heart attack, stroke or chest pain, after just a year to 18 months of treatment.
While the findings aren't definitive, the positive results will make it easier for regulators to approve the drugs based on their cholesterol-lowering ability alone, said Steve Nissen, chief of cardiology at the Cleveland Clinic in Ohio, who wasn't involved in the research. The results will also pressure insurance companies to pay for the treatments, which analysts expect to generate more than $2 billion a year in sales at their peak.
"It helps the companies developing these drugs to reassure the Food and Drug Administration that early approval, based on cholesterol-lowering benefits, is not a risky proposition," Nissen said.
Price Competition
Neither study was designed to prove conclusively how the drugs affect heart disease risk, Nissen said. Definitive studies, under way for both drugs and expected to conclude in the next few years, may not yield as dramatic a benefit, he said.
And since the two treatments are similar, insurers will be able to put pressure on the drugmakers to compete on price. Express Scripts Holding Co., the nation's largest manager of prescription drug benefits, has already described this set of cholesterol drugs as the next big opportunity to control costs. The drugmakers haven't said what they'll charge for the treatments.
The medications are the first of a new class called PCSK9 inhibitors that can lower cholesterol levels when treatment with statins such as Pfizer Inc.'s Lipitor aren't enough to get patients into a healthy range. Analysts expect the drug by Regeneron and Sanofi to reach the market first this year, with an FDA decision by July, followed by Amgen's treatment in August. Pfizer also has a drug in early stages of development.
Real Impact
The Praluent study, funded by Sanofi and Regeneron, found the drug slashed bad cholesterol, or LDL, by 62 percent and lowered heart risks, including stroke and death from cardiovascular disease, by 48 percent. The patients were already on the maximum tolerated dose of statins and started the trial with LDL cholesterol of 70 milligrams per deciliter or more.
While Praluent is delivered as an injection, which makes it less convenient than oral pills like Lipitor, Sanofi and Regeneron "have been pleasantly surprised by how well patients have stayed in the trials and the feedback we've gotten with regards to acceptance of therapy," said Bill Sasiela, Regeneron's vice president of program direction for cardiovascular and metabolic diseases. Patients can use the injections at home.
The Repatha study, funded by Amgen and presented at the American College of Cardiology meeting in San Diego, found just under 1 percent of patients on the medication for a year experienced a heart complication, compared with 2.18 percent on standard treatment. Both doctors and patients knew who was getting the medicine, which can influence the results. The trial enrolled 4,465 patients with a median LDL of 120 milligrams per deciliter. Under 100 milligrams is considered good for an adult.
Real Impact
"With what's out there right now, there's no way to control LDL" for patients who can't tolerate or get enough benefit from statins, said Scott Wasserman, vice president of global development for cardiovascular drugs at Amgen. With Repatha, doctors "have an opportunity to really make an impact for those patients."
While Sunday's study only has data for one year, it bodes well for the outcome of a multiyear, 27,500-person trial Amgen is running that will definitively show Repatha's effect compared with standard care, Wasserman said. Sanofi and Regeneron are also doing a multiyear trial of 18,000 patients. Both trials are expected to yield results by the end of 2017.
Fewer Complications
Sixty patients in the Repatha study experienced complications, including death, heart attack, chest pain, stroke, a procedure to open a clogged artery and heart failure, said lead investigator Marc Sabatine, from Brigham and Women's Hospital in Boston. The events were 53 percent less likely to occur in those getting Repatha, originally developed under the name evolocumab, and the reduced risk was similar in every area, he said.
Neurocognitive complications, such as mild confusion or forgetfulness, were more common with the Amgen drug, though they occurred in fewer than 1 percent of patients, Sabatine said. Other complications included muscle pain and eye problems.
About one-quarter of the people receiving Repatha had their bad cholesterol fall to 25 milligrams or less, Sabatine said.
"You are starting to see levels found in hunter-gatherer populations, where there is virtually no cardiovascular disease," he said. "We are getting down to LDL cholesterol levels we have only dreamed of."
"The absolute reduction is among the largest ever seen with pharmacologic therapy and the lowest level achieved in any trials."
Before it's here, it's on the Bloomberg Terminal.
LEARN MORE