Jeb Bush Is Facing E-Mail Questions, Too
He decided which e-mails to turn over to the state, and took seven years to fully comply with state records laws. Critics are wondering why.
By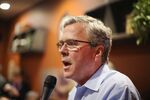 When news broke that former Secretary of State Hillary Clinton exclusively used a personal e-mail address to conduct government business, Jeb Bush was quick to point to his unprompted release of thousands of his own e-mails, a way to tout his own transparency.