Veep or House of Cards? One Insider's Answer
The former senior adviser to Obama agrees with much of Washington that the comedy is the more realistic show.
By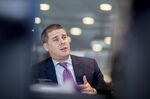 During an appearance on Grantland's Hollywood Prospectus podcast on Thursday, Dan Pfeiffer, former senior adviser to President Barack Obama, summed up why so many D.C. politicos hate Netflix's House of Cards, but love HBO's Veep.
"I would say that House of Cards is as accurate a depiction of Washington as The Walking Dead is of life in suburban Atlanta," Pfeiffer said, referring to the popular zombie show. Veep, on the other hand, is the most realistic of today's Washington shows he said, in the sense that it "gets to the core absurdity of Washington."
The idea that the nation's center of power is more absurdist comedy than dark, gritty soap opera isn't new. Journalists from D.C. have made the same argument (understandably, since House of Cards isn't kind to them) as have several political operatives. The Washington Post recently called House of Cards "the worst show about American politics. Ever." Pfeiffer called the show "terrible" but "weirdly entertaining."
During a PaleyFest panel last year, Veep creator Armando Iannucci said that D.C. insiders sometimes think he's based plot lines off real events when the show was just trying to be outlandish. "You'll do a storyline, and you'll think it's the most ridiculous story you've ever come up with, and it comes out, and [a D.C. insider] will say, 'How did you find that out?'" Iannucci said.
While it's easy to see why people in politics would rather see themselves and their colleagues as flawed but ultimately likable comedic characters (as opposed to manipulative murderers), Veep's biggest benefit might be that it's a workplace comedy. 
Pfeiffer described a scene in Veep where characters have to drop their BlackBerries into a fish bowl before going into a wedding. "People would act exactly like that in Washington. People sneak their BlackBerries into places, they'll take them into funerals," he said. "If you know Washington that hits exactly home."