Obama Says Overhaul of VA Health Care Still Under Way
Margaret Talev and Justin Sink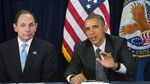 President Barack Obama said the Department of Veterans Affairs is still working to remedy persistent mismanagement and delays at its health-care facilities.
At the VA medical center in Phoenix, where revelations of phony waiting lists and lagging care sparked an investigation, Obama said he would restore trust in the system that provides care for the nation's military veterans.
"There is still more work to do," Obama said Friday after meeting with a group that included VA executives, representatives of veterans groups and one of his biggest critics on the issue, Arizona Senator John McCain. He said his administration is "chipping away at problems."
Obama created an advisory panel that includes outside specialists to recommend how the VA can improve its service to veterans and enhance care. The White House says its members have experience in customer service, "large-scale organizational change," medical care and advocacy for veterans.
The Phoenix facility was at the center of criticism over the treatment of veterans after allegations that patients were waiting months for basic medical care. A subsequent investigation by the administration revealed systemic management failures and substandard care across the country.
VA Troubles
Obama took part in a roundtable discussion with top officials from the VA, representatives of veterans' groups and Arizona's two Republican senators, McCain and Jeff Flake.
McCain, a former Navy pilot who spent almost six years as a prisoner of war in Vietnam, has been a vocal critic of the how the administration has responded to revelations of mismanagement and poor care at the VA.
"While thousands of Arizona veterans continue to experience unacceptable delays in VA care, the Obama administration has been slow and reluctant to fundamentally reform VA operations," McCain said in a statement.
The situation forced the resignation of retired Army General Eric Shinseki as VA secretary. Congress subsequently passed a $16.3 billion bill to overhaul the agency. Obama's failure to visit the Phoenix VA facility in January while in town for an event on his administration's housing policies drew criticism from veterans' groups and Republican lawmakers.
Shinseki's replacement, Robert McDonald, has faced struggles of his own. Last month, McDonald apologized after misstating that he had served in the U.S. military special forces. He's also been criticized for overstating the number of employees fired during an interview with NBC's "Meet the Press."
Wait Times
The program introduced to assist veterans who face long wait times at VA facilities has stumbled, with many patients complaining the program is too restrictive. In a survey released by the Veterans of Foreign Wars earlier this month, 80 percent of those who said they should be eligible for the program said they were not afforded the choice to receive care outside of the VA.
Administration officials say they are making progress to improve care and address mismanagement.
"The Department of Veterans Affairs remains committed to providing Veterans with the care that they have earned where they want it and how they want it," VA spokesman Josh Taylor said in an e-mail.
Accelerating Care
The VA authorized over 2 million visits to private health-care providers last year, Taylor said. In Phoenix, the VA has hired 305 new full time employees, began constructing new outpatient clinics and an emergency department, and is restructuring its phone systems. The agency reached out to every veteran who had been appeared on an unofficial wait list to coordinate accelerated care.
But Kathryn Mitchell, a doctor who helped expose mismanagement issues at the Phoenix facility, said that while the government has "made some incredible improvements in access to care" that there remain "significant problems" which have not been addressed.
Mitchell says the VA hasn't created a standardized triage training program for nurses, putting patients at risk. Because nurses aren't always experienced enough to evaluate a situation, patients may not be provided the right care in a timely fashion.
Plans for expanding the Phoenix hospital's emergency department are also "grossly inadequate," Mitchell said. Blueprints don't include enough observation rooms for mental-health patients, and the floor plan doesn't allow nurses enough visibility of patients, she said.
Additional Authority
Jeff Miller, the Florida Republican who leads the House Committee on Veterans' Affairs, said the Obama administration hasn't taken advantage of the additional authority to dismiss workers and funding provided by Congress last fall.
"It's time for the administration to step up and use the tools Congress gave it to reform the department into an organization truly worthy of the veterans it is charged with serving," Miller said in an e-mail statement.
The VA has proposed disciplinary action over mishandling patients for more than 80 employees nationwide, Taylor said.
While in the area, Obama stopped to see Cory Remsburg, a wounded veteran of the Afghanistan war who the president cited in his State of the Union address last year. Obama first met Remsburg, who is recovering from traumatic brain injury and other wounds, in 2009 at ceremonies for the 65th anniversary of D-Day. Friday's meeting was their sixth.
Obama said Remsburg has been an inspiration to him.
"Never give up, never give in," Obama said. "That's the kind of thing that keeps me going."
At a ceremony earlier in the day, Remsburg received the keys to his new home in Gilbert, Arizona, which was purchased and renovated by two charitable groups, the Army Ranger Lead the Way Fund and Homes for Wounded Warriors.
Obama delivered several housewarming gifts, included beer brewed at the White House, according to an administration statement.