Web Ad Rates Based on Time, Not Clicks
Data analytics is (slowly) selling advertisers on new rates
By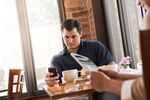 In 2014 digital subscriptions to the Financial Times grew 21 percent, more than twice the rate of overall circulation, and the digital audience accounted for 70 percent of paying readers. Still, the salmon-colored business newspaper faces the same problem as all publications: Print ad rates are far higher than digital ones. But FT Group Chief Executive Officer John Ridding says its secret weapon is audience engagement. "Our audience is not just growing," he told shareholders on Feb. 27. "People are spending more time with the FT and consuming more content." To take fuller advantage of those eyeballs, the paper's website has started to change the way it sells ads.
The FT is the first major publication to try charging advertisers based on how long readers spend looking at a screen where their ads are displayed, rather than on how many times they click on the Web pages where the ads appear. Online data analytics companies argue that the conventional system of clicks inevitably favors websites that can get readers to click without inducing them to read long enough to register ads. "What matters is the amount of time that an ad is in front of someone's face," says Tony Haile, CEO of analytics firm Chartbeat, which is working with the FT to test the time-viewed model.
For years companies such as Facebook have made changes to their websites and apps based on so-called attention metrics, such as how fast readers scroll down a Web page and where their cursors hover while they do. It's been tougher to convince advertisers that this kind of analysis really measures whether a person was actually looking at the screen when an ad appeared, so most websites' sales departments have stuck with rates based on unique viewers or total page views.
Hourly ad rates have been Haile's favorite subject for much of the past year, and his sales pitch dovetails with the FT's, which has long focused on time spent with the paper instead of circulation. "We'd rather have 500,000 people come to our site and each spend 20 minutes than have 1 million people each come for one second," says Brendan Spain, the FT's U.S. commercial director.
So far the advertising experiment is limited. Since the FT began working with Chartbeat in the fall, six Fortune 500 companies have signed up for ad campaigns billed by time viewed, according to Spain, who wouldn't provide rates or total spending. Those clients accounted for about 7 percent of the website's ad inventory in December. Still, some of those early advertisers, which include BP, BlackRock, and Microsoft, say they like the results. BP spokesman Robert Wine says the campaign his company paid for consisted of ads spotlighting individual executives and required more attention than online readers typically have to offer. "Websites these days are extremely busy," he says. "Paying for time feels like a fairer trading mechanism."
The tricky part is determining what counts as viewing an ad, says the FT's global sales director, Dominic Good. The company rings up viewing time only if an ad stays on a reader's screen for at least five seconds. Good says his team is considering lowering that bar to three seconds.
The Economist, which is 50 percent owned by the FT, is working with Adobe Systems' analytics subsidiary, Omniture, to run its own experiments with time-viewed ads. For $50,000, ads appear in three editions of the magazine on its smartphone and tablet apps in North America, and are guaranteed to keep running until they're viewed for a total of 400 hours, says David Kaye, who piloted the ads as the Economist's chief revenue officer. That compares with $45 to $90 per 1,000 clicks for a typical ad on the site. Again, advertisers have been slow to sign on. Fewer than 20 have bought into the system since its September launch, he says. "I'm shocked that it hasn't gotten more takeup," he says.
Haile acknowledges that time-viewed ad rates will likely take years to catch on, if indeed they ever do. Mainstream ad agencies would have to adjust their accounting; clients would need to accept different sets of numbers. Still, he says, "we're already further ahead than I ever thought we would be." Susan Athey, a Stanford business school professor who studies online advertising, says publishers, advertisers, and readers all stand to benefit from a system based more on longer reads of fewer Web pages. "If publishers' revenue depends on advertising impressions and page views," she says, "there is an economic incentive to sacrifice user experience by forcing readers to click too much."
The bottom line: Analytics companies such as Chartbeat and Omniture are trying to remake Web ad rates based on time viewed.
Before it's here, it's on the Bloomberg Terminal.
LEARN MORE