Pernod Ricard's YouTube Moment
The French distiller turns to social media to help boost sales
By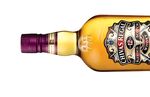 The centerpiece of Alexandre Ricard's Paris apartment, a short walk from his corner office at Pernod Ricard, is a bar displaying 500 bottles of his company's spirits. Carved into the counter is the phrase "Make a new friend every day," a favorite of his grandfather, who founded the business. Ricard, 42, who's been chief executive officer since February, says it's a reminder of his past and what he must do to nurture Pernod's success in the Facebook era.
The best way to revive sales of an aging product is to sell "moments of consumption," Ricard says. Instead of telling consumers that its Chivas Regal Scotch is produced at the oldest operating distillery in the Scottish Highlands, Ricard is taking a contemporary marketing approach. "In the past, if you got a customer to enjoy Chivas Regal, it would be his drink for decades. But millennials are fickle and choose different drinks for different occasions," he says. "We have to market to their repertoire and their experiences."
Millennials, the largest generation since the baby boomers, dine out and go to bars often, Ricard says. Many consume liquor and wine as well as beer as soon as they start drinking; they sample many brands and share what they like and dislike on social media.
Ricard plans to devote at least 25 percent of Pernod's ad budget to digital marketing and is counting on this strategy to lure younger drinkers to Chivas, which saw global sales volume fall 7 percent in its last fiscal year, Pernod says. A new marketing campaign plays to twentysomethings' interest in startups and social media. "The Venture," as the campaign is called, solicits submissions from entrepreneurs who run businesses that strive to fix the world's problems. Five U.S. finalists will be judged in July; the winner will receive $50,000. Pernod is allocating $1 million to the global contest. In the meantime, "The Venture" is being promoted in YouTube videos featuring Oscar Isaac, the star of A Most Violent Year, and other actors pacing in a boxing ring celebrating businesses that "win the right way." "Millennials want to do something meaningful, more than climb the corporate ladder, and we're supporting that," says Laurent Cutier, a brand director at Chivas. More than 17 million people have viewed the YouTube videos worldwide.
Pernod, the world's second-largest distiller, has faced competition from craft spirits and a shift to whiskey from vodka in the U.S. and other markets, and has been held back by a slowdown in China. Sales of its Absolut vodka fell 4 percent in Pernod's last fiscal year. "They have some strong players, including Jameson, the top-selling Irish whiskey," says Donna Hood Crecca at Technomic, a consulting and research firm in Chicago, "but they have heavy lifting to do with other brands."
Pernod has heavily promoted Absolut Elyx, the luxury vodka it released in 2013, on Instagram and at events during New York Fashion Week and Art Basel Miami Beach. A 1-liter square bottle costs about $49. Elyx's campaign shows the vodka being made from single-estate wheat and distilled in copper stills in Sweden.
For Ricard, who drinks Elyx on the rocks, endorsing doing good and conviviality is as important as the quality of his products. As much as millennials are online, he says, "you can't share a drink with a computer. Even if you meet online, you still have to meet in person to have a relationship."
—With Matthew Boyle
The bottom line: Pernod plans to spend at least a quarter of its marketing budget on digital to lure millennials to its brands.
Before it's here, it's on the Bloomberg Terminal.
LEARN MORE