Chris Christie Picking Up Powerful Donors–And a Super-PAC
Jeb Bush may have the fundraising lead, and Scott Walker is competing for the same donors, but the New Jersey governor has pulled in some powerful support.
By and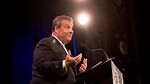 Chris Christie's political action committee has attracted a core of powerful donors, and allies said Thursday that they have formed a super-PAC that could raise unlimited amounts to support a possible presidential run.
Phil Cox, former executive director of the Republican Governors Association, said he established the super-PAC, America Leads. Cox is also senior adviser for Leadership Matters for America, a political action committee that Christie formed in January to expand his visibility.
Even as Christie, New Jersey's second-term governor, moves toward entering the Republican primary, reports say Jeb Bush has a fundraising lead. Leadership Matters has lured 41 donors, including Texas oilman Al Hill Jr., St. Louis financier Jeffrey Fox and Home Depot Inc. founder Ken Langone, according to a list obtained by Bloomberg News.
"He'll be able to raise enough to be competitive," Hill said in an interview. "When you end up putting Chris Christie on a stage in front of the American people, they will connect with him."
The donor list didn't include contribution amounts, though the fund has a maximum individual limit of $5,000. The roster also includes Jim Klote of Virginia, a fundraiser for 2012 Republican nominee Mitt Romney; Minnesota businessman and 2014 governor candidate Scott Honour; New York investor Nick Loeb and Boston management executive Chris Vincze.
Through super-PACs, wealthy donors can write seven- or even eight-figure checks to help candidates. Under political-finance laws, the groups can't coordinate their efforts with campaigns. Donors can give limited amounts directly to candidates via traditional PACs.
Cox will be director of America Leads and Paige Hahn, former finance director of the governors group, will take that role at the super-PAC. Meredith O'Rourke, campaign finance director for Florida Governor Rick Scott, will be a fundraising consultant.
"Governor Christie is exactly the kind of strong leader we need at this critical point," Cox said in an e-mail. "He's provided effective, conservative leadership in a deep blue state."
"We hope he decides to run."
Hill is chairman of AG Hill Partners, which invests in real estate and energy. The 70-year-old said he met Christie about 16 months ago when they were introduced at a Dallas Cowboys football game.
Perhaps Christie's most enthusiastic and helpful donor is Langone, a New York investor and co-founder of Home Depot Inc., who Wednesday hosted a meet-and-greet event for him in Jupiter, Florida.
Christie, 52, will have to find his footing in a challenging field, with Bush dominating the money primary and Wisconsin Governor Scott Walker collecting support from business-minded donors Christie would have hoped to court. More than a dozen other Republicans have said they, too, are considering campaigns.
New Jersey's governor has shown a knack for fundraising: He raised a record $106 million for the Republican Governors Association as its chairman last year and in 2013. Christie also set records for New Jersey Republicans.
New Jersey donors to Leadership Matters include trucking executive Jerry Langer and real estate investor Finn Wentworth. Motorola Solutions Inc. Chief Executive Officer Greg Brown, an Illinois resident who graduated from New Jersey's Rutgers University and is chairman of its board of governors, also gave.
Fox, the St. Louis donor, is chairman and chief executive of Harbour Group, an investment firm.
Klote, a 50-year-old professional fundraiser for churches and nonprofits from Great Falls, Virginia, said he got to know Christie by giving money to the RGA.
 "I sure talk up Chris Christie to everyone I meet," he said. "If he runs, I will work tirelessly to support him."
 Leadership Matters announced hires with ties to former President George W. Bush. They include Brian Jones, who served on Bush's communications staff in 2004; Kevin Shuvalov, a staffer on the 2000 campaign; and Cary Evans, who was a regional political director in 2004.
 While Langone hasn't said how much of his own money he'll give, he predicted in an interview this year that Christie will catch fire among enough donors to be "extremely competitive" with Bush in fundraising. Bush's team has set a goal of collecting $100 million by the end of this month.
"I'm totally confident that when people see him and hear him, he will have no trouble raising money," Langone said. "I think this guy's got it."