The Father-Daughter Team Behind the Vegan Condom
Sustain is a fair-trade, all-natural condom company taking on Trojan and Durex
By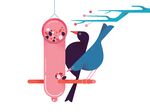 Every day at work, Meika Hollender talks with her dad about sex. It's been happening since last July, when they started selling Sustain, a fair-trade, all-natural condom company. "There are times when I'll suggest a product, and it's, like, 'Let me tell you why this is useful,' " she says. "It can get a little awkward."
Her father is Jeffrey Hollender, the co-founder and former chief executive officer of Seventh Generation, the largest environmentally friendly paper and home-cleaning company in the U.S. For more than two decades, green condoms have been his white whale: "Do you remember back in the 1990s when Save the Rainforest was popular?" he asks. "At the same time, AIDS was in the news a lot, and I thought, Why not combine the two causes and make Rainforest Rubbers?" He approached Seventh Generation with the idea, but his senior management team decided it was too risqué.
In 2010, Jeffrey was unexpectedly fired—he says there were philosophical differences between him and the company's board—so he decided to return to his idea. There was just one problem: "I'm a 60-year-old guy. I can't go out there and talk to young women about condom use," he says. Meanwhile, Meika, 27, had just graduated from New York University's Stern School of Business and wanted to work somewhere that allowed her to focus on environmental issues and women's health. 

The family invested $1.5 million in their project, then raised $3 million in funding so they could source sustainable latex from a family-owned rubber plantation in India that's certified by the Forest Stewardship Council. They also bought expensive recycled-cardboard packaging. They've sold their condoms to about 1,000 stores, including Whole Foods and Wegmans. Jeffrey says Sustain took in $500,000 during its first four months, which makes it a small player in the $525 billion global condom market.
Sustain is the latest addition to the natural condom category, which can be traced to at least 2007, when the British company French Letter began using fair-trade rubber. They compete with Colorado-based Sir Richard's Condom, Germany's Einhorn Condoms, and L Condoms, which delivers its all-natural rubbers by bike messenger in San Francisco and New York. Unlike most of the competition, Sustains are made without the milk protein casein, so they're vegan-friendly. They're as durable as standard ones. But they aren't cheap—a pack of 10 costs about $14.
To stand out in the crowded space, the Hollenders are marketing their product exclusively to women. Condoms obviously benefit them, but in the U.S. they're mostly advertised to men. Trojan, which accounts for 75 percent of all condom sales, according to market-research firm IRI, relies on the superhero-esque Trojan Man character, who supplies condoms to excited man-boys. Its main competitor, Durex, usually goes the steamy route, with darkly lit commercials filmed in nightclubs. "They're telling guys to carry it like a badge of honor," says Barbara Kahn, a professor of marketing at the Wharton School. "Women aren't part of the conversation. For them, the idea of carrying a condom is embarrassing."
According to the U.S. Centers for Disease Control and Prevention, condom use has declined over the past 20 years—only 16 percent of women who have sex use one. Instead, most rely on birth control pills or other hormonal methods for contraception, although none of those protect against sexually transmitted infections.
To win women back, Sustain comes in a demure teal package with pictures of pebbles, bamboo, or sea animals on it. "If you put them in your shopping cart, people won't necessarily know what you're buying," Meika says. They're not too feminine, either; men might appreciate a less cheesy, more discreet option, especially if they buy into the bonus environmental messaging. "There aren't that many women out there who're searching for all-natural condoms," Jeffrey says. "Well," Meika interrupts, "not yet."
Before it's here, it's on the Bloomberg Terminal.
LEARN MORE