Fox's Breakout Hit Empire Pulls An Unlikely Audience
Almost half the audience is male
By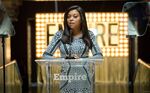 Last fall, while CBS, NBC, and ABC were trumpeting year-over-year gains for their slate of shows, Fox was dying. Only one of its new programs—Gotham—had gained any traction, and total viewership was down 30 percent from 2013. Most executives didn't expect much from the Jan. 7 premiere of Empire, a musical drama about a dying rap mogul who pits his three sons against each other to see who will inherit his enterprise. "We knew that … it would be a challenge for it not to be seen as just a hip-hop show or just a soap opera," says Joe Earley, chief operating officer of Fox's TV Group.
Now Empire has become the network's biggest hit in years. Ten million people watched the premiere, and that's grown to 14 million per episode in two months. As of March 4, it's the only TV show that's increased its audience nine episodes in a row, at least since Nielsen began tracking in 1991. It's also the most-played show on Comcast's on-demand portal. In early March, Steve Levitan—creator of Modern Family, TV's last megahit—jokingly asked Fox to stop playing its show on the same night as his.

Unlike other network dramas, Empire (which airs on Wednesdays at 9 p.m.) is most successful with black viewers; half of the premiere's audience was black, and that's since grown to about two-thirds, according to Nielsen. It's also the top new show among women. And, surprisingly, among men ages 18 to 49. Just shy of half the audience is male. "That's not common for a show that's a soap," Earley says. Initially, he adds, Fox marketed it to black fans, the LGBT community, and women who watch daytime soaps. But lately the show's been cresting in areas with large Hispanic audiences, such as Texas, likely because it veers on being a telenovela.
In early March, it dethroned Scandal as the top show on social media, where Empire is celebrated as top-notch trashy TV. It helps that the plots are hyper-topical—episodes often feel like a thinly veiled version of the Beyoncé-Jay Z story, elevator fights and Gucci clothes included. The most compelling story line is between patriarch Lucious Lyon (played by Terrence Howard) and his gay son, Jamal (Jussie Smollett). Lucious disapproves of Jamal's sexuality and thinks it will hurt his company if his son comes out. Jamal turns to his mother, Cookie (Taraji P. Henson, the show's best actor), but her support takes the form of a marketing plan to turn her son into hip-hop's first openly gay star.
Profit is driving it all, onscreen and off. Hollywood director Lee Daniels (The Butler), who produces the show, originally envisioned the King Lear-ish script as a film. He only turned to TV, he says, because he "wanted to make money for once." Too bad Fox undersold the show: Thirty-second spots during Empire's first season went for $140,000, about half of what it gets for the less popular American Idol.

The music's also not yet minting much. New tracks are released by Columbia Records for free on Spotify. But so far, none of them are radio hits. That's because Jim Beanz, a protégé of the producer Timbaland, writes them to fit plot points. "They tell me what the scene is about, then I send it to Fox, which checks to make sure the lyrics aren't too on the nose," he says. This being network TV, Fox isn't too concerned with nuance: The closeted Jamal sings a song called Tell the Truth—while crying. Smollett is the best singer on the show, so the music's failings aren't his fault. Late last month, he signed an independent, non-Empire contract with Columbia. Someone there should write him less weepy material.
Before it's here, it's on the Bloomberg Terminal.
LEARN MORE