Pharrell, Thicke Got to Give Up $7.4 Million in Gaye Song Fight
Edvard Pettersson, Phil Milford and Danielle Burger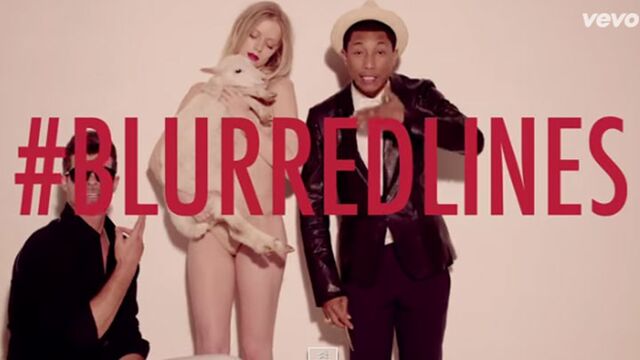 Pharrell Williams and Robin Thicke crossed the line in recording the biggest hit song of 2013 by borrowing too much from the late Marvin Gaye and were ordered by a U.S. jury to give up $7.4 million in compensation.
The Williams-Thicke song "Blurred Lines" was too similar to Gaye's "Got to Give It Up," jurors in Los Angeles found Tuesday in a decision that sent shockwaves through an industry that often samples the work of others.
"The verdict and large damages sum will likely chill the industry's willingness to put out derivative and homage works -- an inexorable element of the American music tradition," said Matt Larson, a Bloomberg Intelligence litigation analyst.
The line between appropriation and stealing is thin, said David Wolfert, a Grammy and Emmy-nominated songwriter and founding member of the Council of Music Creators, an advocacy group for composers and songwriters.
"Even if the decision is wrong, it forces people to be a little more original in their thinking," Wolfert said Wednesday. "It's great for the music business of songwriting."
The "Blurred Lines" music video, including the original version featuring topless models, has been watched more than 250 million times on YouTube and Vevo, according to a November 2013 filing by Frankie Christian Gaye and Nona Marvisa Gaye, children of the legendary rhythm and blues artist who died in 1984.
Emotional Battle
"We're very happy with the verdict," Paul Philips, the lawyer for Marvin Gaye III, said in a phone interview. "This has been a very long, hard-fought, and at times emotional battle."
Thicke sang the song at the 2013 MTV Video Music Awards in a bawdy "twerking" performance with Miley Cyrus that helped generate 18.5 million tweets for the show in one evening. "Blurred Lines" made about $16 million to $17 million in profit, according to Philips.
Williams and Thicke, who composed, produced and performed the song, sued first in August 2013, seeking a court ruling that their song didn't infringe Gaye's 1977 hit. They said their intent was to "evoke an era" and that "Blurred Lines" was starkly different from Gaye's song, which reached number one on three charts, including the U.S. Billboard Hot 100.
'Extremely Disappointed'
"We are extremely disappointed in the ruling made today, which sets a horrible precedent for music and creativity going forward," Howard King, a lawyer for Williams and Thicke, said Tuesday in a statement. "Pharrell created 'Blurred Lines' from his heart, mind and soul and the song was not taken from anyone or anywhere else."
The attention from the trial has spurred sales of both songs. Digital downloads of Gaye's song jumped to 2,400 in the week ended March 1 and 2,800 in the week ended March 8, from 1,300 in the week before, according to Nielsen Music. "Blurred Lines" had 7,000 downloads the week of March 8 and 6,000 the week of March 1, up from 4,000 the prior week.
Music Landscape
Such lawsuits, involving famous artists, "have always been part of the music landscape," said Mark Mulligan of Midia Consulting in London.
They rarely reach trial and a jury verdict, however, with artists usually opting to settle out of court.
Sam Smith gave Tom Petty a co-writing credit on "Stay With Me," the winner of this year's Grammy Award for Song of the Year, after the duo agreed the chorus resembled Petty's 1989 single, "I Won't Back Down."
"We easily came to an agreement," Petty said in a statement on his website. "The word lawsuit was never said."
King had told jurors during the trial that verdict for the Gaye family would stifle artists and inhibit musicians trying to recreate an era or genre of music
In their November 2013 copyright infringement claim, the Gaye children cited an interview Thicke gave to GQ in which he says he told Williams that "Got to Give It Up" was one of his favorite songs and that they should make something with that groove.
Thicke's Credibility
Thicke's credibility with the jury was hurt because he changed his story about the song's creation, said Miles J. Feldman, an entertainment and business trial lawyer with Raines Feldman LLP in Beverly Hills, California, who has represented Will Smith and the Black Eyed Peas in copyright-infringement lawsuits.
"In a jury trial, the parties' credibility plays a huge role in how the case will be determined," Feldman said in a phone interview. "From a technical copyright perspective, Pharrell and Thicke had the stronger argument."
The case is Williams v. Bridgeport Music Inc., 13-cv-06004, U.S. District Court, Central District of California (Los Angeles).
Before it's here, it's on the Bloomberg Terminal.
LEARN MORE