Marco Rubio, Horatio Alger, and the Republican-Donor Version of Class Warfare
Jeb Bush may be inevitable, but what self-made billionaire wants to bet on an entitled sure thing?
By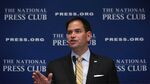 Marco Rubio's core political narrative begins with his grandfather, a man he called Papá, who was born in rural Cuba and contracted polio as a child. He spent most of his adult life as a laborer, struggling to provide for his seven daughters. In his older years, he'd hold court over his young grandson from an aluminum lawn chair, smoking a cigar, and telling stories about history and politics and baseball and what could have been.