Lindsey Graham is Campaign Finance Reform-Curious
The one Republican ready to cut big money–sort of.
By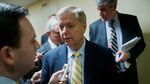 In a longer story about South Carolina Lindsey Graham's trip to New Hampshire, I quote the exchange he had with a voter who worried that members of Congress were spending too much time raising money. He's not going to be the last candidate asked about this. The New Hampshire Rebellion, the latest populist coalition of people worried about campaign finance, is trying to resurrect the reform enthusiasm of the 1990s and the aughts. It's staged traditional events and attention-getting walks across the state to raise awareness of the issue again. Even at this early stage, it's common to see NHRebellion swag on cars parking at town halls.
And Graham is not going to be the candidate who shuts the rebellion down. "New Hampshire is an antidote to big money," Graham said. "I would like to control the money in politics to the extent it will destroy the political process. There are probably 50 people in the country you've got to go to and see if they'd support you, because there's unlimited giving … if we don't have some control over the money, the most influential people in the country are going to be the ones with the most money."
The video of his whole answer is here.
Like John McCain, Graham conditioned his support for a reform bill on labor unions being exempt from the same rules as private mega-donors. That's still a rare opinion in Mitch McConnell's GOP.