Hillary Clinton Press Conference: The Live Blog
The former secretary of state holds her first press availability since September, defending her use of private e-mail.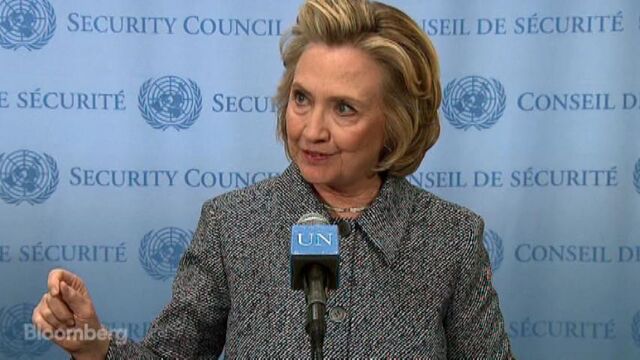 Bloomberg Politics is following the run-up to former Secretary of State's Hillary Clinton press conference on Tuesday—her first press availability since September, coming amid scrutiny of her family foundation finances and private e-mail use. The press conference is expected sometime after her 1:30 p.m. appearance at the UN. Stay tuned for updates throughout the day. 
Stay tuned...
4:19 p.m. That's a wrap for our live blog. Read our colleague Jennifer Epstein's report from the UN here, and follow our continued coverage on our homepage, BloombergPolitics.com. At 5 p.m. on With All Due Respect, Mark Halperin, John Heilemann, and guests will discuss what questions Clinton put to rest, what questions she failed to answer, what today told us about the state of her political skills, and where the controversy will go next. Watch on Bloomberg TV or catch the livestream on our homepage. (Find your channel here.)
Reaction time
4:09 p.m. A spokesman for House Speaker John Boehner praised the Benghazi committee's role in the story. "Secretary Clinton didn't hand over her emails out of the goodness of her heart—she was forced to by smart, determined, and effective oversight by the House Select Committee on Benghazi," said the spokesman, Michael Steel. —Billy House
3:50 p.m. Reactions are arriving from Clinton's Republican foes, including the House's lead Benghazi investigator, Trey Gowdy of South Carolina. In a statement, Gowdy says his panel has no choice but to call Clinton to appear "at least twice," once to address her e-mail use and once to discuss the 2012 Libya attack.
Gowdy said that "there remain serious questions about the security of the system she employed from a national security standpoint, who authorized this exclusive use of personal email despite guidance to the contrary from both her State Department and the White House, who had access to the server from the time Secretary Clinton left office until the time—almost two years later—the State Department asked for these public records back, and who culled through the records to determine which were personal and which were public."
He added that Clinton should turn over her e-mail server "to a neutral, detached third-party arbiter who can determine which documents should be public and which should remain private." —Elizabeth Titus
Clinton speaks at press conference
3:19 p.m. Asked about the ouster of the former U.S. ambassador to Kenya amid questions about his e-mail use—as well as his management—Clinton urges journalists to go online and read about the circumstances surrounding his departure. With that, Clinton closed the press conference after about 20 minutes.
3:18 p.m. Clinton says she never e-mailed classified information to anyone. 
3:13 p.m. After some crosstalk among journalists jockeying to ask questions, Clinton is asked why she did not go along with State Department rules until nearly two years after she left the post and why she apparently caught the White House by surprise. "The laws and regulations in effect when I was secretary of state allowed me to use my e-mail for work. That is undisputed," she says. There are different rules for the White House and the rest of the executive branch, she says, and expected her messages to be captured when she e-mailed people .gov accounts. In late summer or early fall, she said, the State Department asked former secretaries for help providing any work-related e-mails in their personal accounts. Clinton says she asked her counsel to err on the side of providing anything that could be connected to work.
3:12 p.m. Asked whether maintaining the private server was appropriate and whether she cleared it with anyone, Clinton says the system was set up for her husband's office, had numerous safeguards, and was on property guarded by the Secret Service. "There were no security breaches," she said. "I think the use of that server which started with my husband certainly proved to be effective and secure." She demurs on the question of whether this episode will affect her timing on a decision about whether to run for president in 2016. 
3:09 p.m. Asked by another journalist if she or aides deleted government e-mails, Clinton says "we did not." She said her instructions were to err on the side of providing anything that could possibly be viewed as work-related. "That is the responsibility of the individual and I have fulfilled that responsibility," she says. "The server will remain private," she adds about the e-mail system she maintained at her home. 
3:08 p.m. Asked by another journalist if she thinks she made a mistake and, if so, what she's learned from it, Clinton says looking back, she sees it might have been smarter to use two devices, but all relevant messages are now with the State Department. 
3:06 p.m. MSNBC's Andrea Mitchell asks Clinton to explain how she decided which personal e-mails to get rid of, how she deleted them, and when. She also asked Clinton to address foreign contributions to her family's foundation. On the first question, Clinton says that in going through her e-mails, there were more than 60,000 sent and received. About half were work-related and went to the State Department, she said, and about half were personal. "I am very confident in the process that we conducted and the e-mails that were produced," she says, and the public will have "unprecedented insight" into a high-level government official's work after they're release. On the foundation, Clinton said she was proud of its work. "I think that we are very clear about where we stand, certainly where I stand, on all of these issues. There can't be any mistake about my passion concerning women's rights here at home and around the world," she says. 
3:04 p.m. A Turkish journalist opens the Q. & A., asking why she opted out of using two devices, one for work and one for personal matters. The journalist also asks Clinton whether all this fuss would be made if she were a man. "I'll leave that for others to answer," Clinton responds. "I saw it as a matter of convenience and it was allowed. Others had done it." 
3:02 p.m. Clinton describes her choice to use person e-mail as one of convenience, and says it was allowed. "At the time this didn't seem like an issue," she says. The vast majority of her messages went to government employees' official addresses, she says, ensuring retention. She says she responded right away with all possible work-related e-mails when the State Department asked. "We went through a thorough process to identify all of my work-related e-mails," she says. She says she chose not to keep personal e-mails about topics including planning her daughter's wedding. "No one wants their personal e-mails made public and I think most people understand that and respect that privacy," she says. 
3:01 p.m. "Out of step" is how Clinton describes Republican senators' letter to Iranian leaders. "I would be pleased to talk more about this important matter but I know there have been questions about my e-mails," she says with a smile. 
3:00 p.m. On Iran, she says the president and his team's goal is a diplomatic solution that would close Iran's pathway to a nuclear bomb. 
2:59 p.m. Clinton opens with more comments on the women's on which she has been focusing at public events this week, including her speech earlier Tuesday at the UN. 
—Elizabeth Titus
McConnell: 'Rather unusual'
2:40 p.m. More from the Hill: Senate Minority Leader Harry Reid said of the episode, "This is a hiccup." —Kathleen Hunter
2:30 p.m. Senate Majority Leader Mitch McConnell told reporters on Tuesday that "we first need to know what the facts are" on the Clinton e-mails."It strikes you upon learning about it as rather unusual," he said. "You have to wonder why the secretary of state would do something like this." He added it was up to administration to determine whether the practice was appropriate. —Kathleen Hunter
State Department refers questions to Clinton
2:37 p.m. More from the State Department briefing: The e-mails are to be released on a website, and the cost to review the e-mails will be "roughly the same" as the cost would have been if they were written on a state.gov e-mail address, Psaki said. She added it is not accurate that reviewing e-mails will costs millions of dollars; "millions is far outstated." —Indira Lakshmanan
2:07 p.m. At a State Department briefing in Washington on Tuesday, spokesperson Jen Psaki was asked how Clinton dealt with classified information, and she directed media to Clinton herself on that question. Psaki said paper printouts were the format that the State Department requested for Clinton's e-mails in part because sometimes notes are made on e-mails and they want to review those notes too. She said State will release to the public the 300 e-mails that have been given to the Benghazi committee once they have been reviewed by State for any needed redactions. That release will happen earlier than the release of the full 55,000 pages, since it will take longer to go through those. —Indira Lakshmanan
Clinton speaks at UN
1:58 p.m. Clinton is touting progress made on women's issues since her landmark China speech in 1995, which our colleague Melinda Henneberger detailed in a story earlier today. "Despite the obstacles that remain, there's never been a better time in history to be born female," Clinton said. But, she added: "We're not there yet." –Elizabeth Titus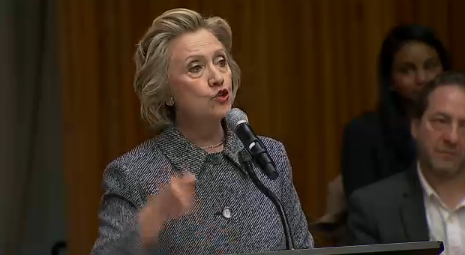 1:57 p.m. Clinton has taken the podium at the UN, where she was introduced as "a future president," to applause, according to our colleague Sangwon Yoon. You can watch live on our homepage. —Elizabeth Titus
Places, everyone
1:48 p.m. Via Bloomberg UN correspondent Sangwon Yoon and Bloomberg Politics' Mark Halperin:
Progressives weigh in
1:41 p.m. The progressive group Democracy for America, which is supporting an effort to draft Massachusetts Senator Elizabeth Warren into the 2016 presidential race, sends along this statement from spokesman Neil Sroka. The group doesn't attack Clinton over her e-mail account but still seeks to draw a contrast between her and Warren (who has said she's not running): "Primaries are decided on the issues, not where candidates store their emails. In 2016, Democrats are looking for a president who will fearlessly stand up to the wealthy and powerful, take on Wall Street greed, and fight for working families by pushing popular progressive ideas like expanding Social Security. Elizabeth Warren is the kind of fearless fighter that Americans want in 2016 and that's why DFA members are working so hard to get her in this race." —Elizabeth Titus
A question of protocol
1:35 p.m. The Washington Post reports that a quirk of UN customs could mean Clinton's lead questioner is not an American political reporter at all. "Now by tradition, the first question at a U.N. news conferences is asked by the president of the U.N. Correspondents Association," write Colby Itkowitz and Al Kamen. "But Giampaolo Pioli, of the Italian paper Quotidiano Nazionale (National Daily) is in the Central African Republic. We reached him there, and he said one of the other officers would do the honors. If they follow protocol, next in line would be the UNCA first vice president Kahraman Haliscelik, the New York correspondent for TRT Turkish Radio & TV." —Elizabeth Titus
How to watch
1:05 p.m. Bloomberg Politics will anchor a special report on Hillary Clinton's press conference at the UN, where she is expected to address the controversy surrounding her private e-mail account after a 1:30 p.m. speech. Mark Halperin and John Heilemann will anchor live coverage of the event—Mark from the UN, John from the New York studios. They'll be joined by Al Hunt, Melinda Henneberger, Jennifer Epstein, and others for reporting and analysis throughout. Tune in on Bloomberg TV or livestream on our homepage, BloombergPolitics.com. (Find your channel here.)
Setting the scene
5 questions for Hillary Clinton
12:43 p.m. For some, particularly Clinton's most ardent supporters, her private e-mail account is an immaterial concern, a smoking gun in search of a victim. For Republican congressional investigators, it's proof that Clinton has something to hide. For many Americans, it's a still-unexplained oddity. Now, after eight days of silence, Clinton is ready to speak. Here are five questions for her:
1. Why did you decide to do everything on a private account?
This, of course, is the question that goes to the way that Clinton makes decisions, which should inform whether voters want her to be president of the United States. It's a question that should have been answerable instantly and honestly but has taken more than a week for Clinton to address. Many of Clinton's allies and supporters believe that she's gotten bad advice over time on a variety of issues. For them, the controversy over her e-mail highlights the weaknesses of an operation that is too defensive, too combative, and too slow to react to issues that could damage her candidacy.
2. Who owns the e-mail: you or the public?
This is a damned-if-you-do-damned-if-you-don't question. If the e-mails belong to the government, then Clinton surely isn't the one who should decide which of her e-mails are subject to being made public. If Clinton believes they all belong to her—an interpretation at odds with at least the spirit of open-records laws—there's a political cost to admitting she believes that the rules everyone else follows don't apply to her.
3.  If security was an issue, why haven't you gone public about the vulnerabilities of American officials' e-mails? Shouldn't you have been shouting from the rooftop to warn fellow officials and the American public about the danger?
There's a possibility Clinton will say she kept the e-mails on a private server to protect them from being hacked. While most administration officials maintain private e-mail accounts for personal correspondence, the vast majority of them still conduct official business on their government accounts. What Clinton suggests is that they are all more vulnerable operating on U.S. government accounts than servers kept in their homes. That would seem to be a cause for alarm—and for upgrading U.S. electronic security. Why didn't she tell others they were more vulnerable to attack than they thought?
4) How do you justify your family foundation taking money from foreign governments with business before the United States while you are publicly contemplating a run for the presidency? Should Americans just trust that you can't be influenced by money?
This question matters to Democrats as well as Clinton's Republican opponents. The knock on Hillary and Bill Clinton is that they've been willing to peddle access, and perhaps influence, to almost anyone for a buck. Lincoln Bedroom, anyone? If Americans are expected to hand her the reins of the free world, it's worth knowing whether money can grease her hands. 
5. Your husband says the Clinton Foundation has done more good than harm. Shouldn't publicly subsidized charities such as yours have a higher bar for the work that they do?
Bill Clinton's comment didn't make that much of a splash. But perhaps it should have. How many donors would give to a local charity that boasted it did more good than harm? It seemed like ammunition for critics who say the Clinton Foundation is far more focused on elevating the Clintons than it is on providing funding for philanthropic activity. The truth is, it does both. But Bill Clinton hardly gave an endorsement to the idea that one far outweighs the other. –Jonathan Allen
White House: Obama understands value of record preservation
12:28 p.m. A day after the White House acknowledged that President Barack Obama exchanged e-mails with Clinton using her personal e-mail address while she was secretary of state, deputy press secretary Eric Schultz told reporters aboard Air Force One on Tuesday that the president understands the value of preserving e-mails and documents. Via our colleague Justin Sink: Schultz said the messages between Obama and Clinton "would've been preserved under the presidential records acts, based on the presidents e-mails, and two, have now been turned over to the State Department for review" by Clinton.
Asked whether Obama has a personal e-mail account, Schultz said, "In engaging questions on the security and integrity of the president e-mail, we have made clear that part of the security precautions we take around that e-mail account is no talking about it publicly."
"We also understand the rules and guidelines that dictate certain materials, and we abide by that," he added. "The president's expectation when sending or receiving an e-mail from any cabinet secretary" is that they "be preserved, maintained and archived in accordance with the Federal Records Act."
Is he tired of getting questions on the issue, which has largely consumed the political media for the past week? 
"We take these guidelines seriously, we take compliance very seriously, so we are happy to engage you in questions on this," he said. —Elizabeth Titus
Media 'alarm bells'
12:21 p.m. Politico's Dylan Byers reports on the chaotic media situation surrounding the Clinton press conference, writing that her "choice of venue has raised alarm bells among the political press corps, who fear they will not be able to obtain credentials for the event. The United Nations has a tightly controlled accreditation process, including a requirement that journalists submit applications for credentials at least 24 hours in advance. News of Clinton's press conference didn't leak until Tuesday morning, just hours before the event was scheduled to take place."
"We are going to do our best to include anyone that wasn't already coming," Clinton spokesman Nick Merrill told Byers.
From reporters on the beat:
—Elizabeth Titus
Will Clinton pull a Christie?
12:06 p.m. The Washington Post's Chris Cillizza offers a possible approach Clinton could take when she meets the press later Tuesday:
Say this: "I believe deeply in transparency for our elected officials. I will release every e-mail I sent during my four years as secretary of state from my 'clintonemail' address. They will be put on a Web site that will allow anyone who would like to see them to do so. I hope to complete this by June 1."
Or she could pull a Chris Christie, he notes. Remember when the New Jersey governor held a 107-minute press conference in January 2014 to address the so-called Bridgegate controversy? 
But Cillizza is skeptical Clinton will take either approach, writing that the most likely scenario is "a relatively generic statement and taking a few questions in which she largely reiterates that statement." —Elizabeth Titus

Throwback Tuesday
11:46 a.m. The Washington Examiner's Paul Bedard has published a column recalling another intensely watched Clinton press conference—in 1994.
He writes: "With ease and sometimes humor, she took questions for 68 minutes. As with most press conferences that have a big buildup, the result didn't provide fireworks. Instead, she methodically and often insightfully answered the questions from the press corps. In fact, the most lasting news about it was what she wore a pink St. John knit sweater." —Elizabeth Titus
Waiting game
11:43 a.m. The scene at the UN press-accreditation office:
Clinton office confirms Tuesday press conference
11:37 a.m. Under scrutiny for foreign donations to her family's foundation and her private e-mail use as secretary of state, Hillary Clinton will hold a press conference in New York on Tuesday, her office just announced. She'll go face to face with reporters after speaking at a United Nations summit on women's issues at 1:30 p.m., spokesman Nick Merrill said. As our colleague Jennifer Epstein reported, Clinton hasn't held a press availability since she attended former Senator Tom Harkin's steak fry in Indianola, Iowa, in September. The event comes before she has even announced her presumptive 2016 presidential campaign, and as Epstein reports, "she and some of her close advisers had hoped to put off answering questions about her e-mail account until she formally launches her campaign, almost certainly in April. But their desire to ride out the storm was overtaken by a sense that their initial attempt to let some air out of the controversy—via a tweet conveying Clinton's request for the State Department to release her e-mails—hadn't done enough to ease the tension." —Elizabeth Titus