Cohen's Point72 Hires 30 People for Big Data Investing
Simone Foxman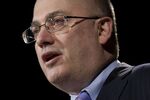 Steven Cohen's investment firm is looking for an edge in public data.
Point72 Asset Management, the successor to Cohen's hedge fund SAC Capital Advisors, has hired about 30 employees since the start of last year to build computer models that collect publicly available data and analyze it for patterns, according to two people with knowledge of the matter.
The hires are part of a project to expand quantitative investing, dubbed Aperio, that's spearheaded by President Doug Haynes, said Mark Herr, a spokesman for the Stamford, Connecticut-based firm. Point72 is in the process of hiring a manager to oversee the strategy, he said, declining to comment on the number of professionals the firm has brought in so far.
Cohen, whose SAC Capital shut down last year and paid a record fine to settle charges of insider trading, joins Ray Dalio's Bridgewater Associates in pushing into computer-driven investing, an area dominated by a handful of big firms such as the $25 billion Renaissance Technologies and the $24 billion Two Sigma. The money managers are seeking to take advantage of advances in computing power and data availability to analyze large amounts of information.
"Data used to come to you in a trickle and today it comes in torrents," Herr said. "The amount of publicly accessible data can now be compared to a fire hose of information. People who can read the signals most accurately and analyze them are the ones who will generate returns."
Bridgewater's Algorithms
Bridgewater is starting an artificial-intelligence unit overseen by David Ferrucci, who led International Business Machines Corp. engineers that developed Watson, the computer that beat human players on the television quiz show "Jeopardy!" The new unit will create trading algorithms that make predictions based on historical data and statistical probabilities, a person familiar with the matter said last month. The programs will learn as markets change and adapt to new information, as opposed to those that follow static instructions.
At Point72, the new hires' technological savvy is meant to help the investment firm gain an edge in reacting to information and make smarter investing decisions, Herr said, declining to provide details on the strategy. The quantitative researchers are meant to develop research solutions for each of the firm's seven equities units, which employ 65 to 70 money managers, and to a lesser extent the five managers that trade around macroeconomic events.
'Unstructured' Data
Firms like Point72 "have the size and the assets and the money they can throw at this program," Samuel Won, the head of New York-based Global Risk Management Advisors, said in a phone interview March 6. He said it could take a long time for Point72's investment in quantitative researchers to begin bearing fruit.
A small fraction of the data computer programs can mine is "structured," like earnings and economic reports that follow a standard format and are mainly based around easily deciphered numbers, said Armando Gonzalez, who runs RavenPack, a company that provides data and analytics software to quantitative hedge funds. "Unstructured" data, like news reports, research reports, blogs, or social media, is much more difficult for algorithms to decipher.
New Manager
That's where capabilities like machine learning and natural language processing come in. Ideally, computer programs help an investment professional analyze those pieces of information to find something that other people haven't found yet, according to Gonzalez. For example, a computer program could look back over twenty years of a company's earnings statements and detect subtle variations in tone that could indicate that it is doing well or doing poorly.
Point72's new quant team currently reports to Haynes, but will soon report to a new manager that the firm is in the final stages of hiring, Herr said. He added that analytical models could someday replace other forms of research that Point72 conducts internally.
Haynes, a former McKinsey & Co. director, has reorganized the equities business to improve accountability. Some executives at Point72 are considering asking the U.S. Securities and Exchange Commission to limit any potential ban on managing outside capital to three-years, people familiar with the matter said in January.
Hedge funds and alternative investment firms are struggling to produce returns amid increased competition and low volatility. Hedge funds that bet on and against stocks gained 2 percent in 2014, while the Standard & Poor's 500 Index returned 14 percent.
"When you have so many firms in the same space it makes it more difficult to do business," Herr said. "The firms that can be thoughtful, compliance-driven, innovative and strategic will continue to thrive."
Before it's here, it's on the Bloomberg Terminal.
LEARN MORE