What Chelsea Manning Has Won
The leaker changed how the military treats transgender people.
By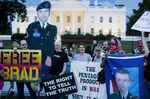 Last December, when Chelsea Manning turned 27, she received birthday greetings from Michael Stipe, JM Coetzee, Slavoj Žižek, Terry Gilliam, Edward Snowden, and Lupe Fiasco: not a bad group of friends for any young woman. Vivienne Westwood sent her a card, too, a handsome graphical map of red and green, marked up with scribbles of support in the loose but confident scrawl of a fashion designer. Manning received it, of course, in Fort Leavenworth military prison in Kansas, where she is serving a 35-year sentence for leaking classified government documents to WikiLeaks as a soldier in the U.S. Army. She replied to Westwood, "I am working a lot, studying, working on the appeal and a lawsuit on fundraising, writing articles and trying to stay healthy." In February, in her capacity as an article-writer, Manning landed a new gig: contributing opinion writer at the Guardian US, focused on "war, gender, freedom of information." Days later, the United States military approved hormone therapy for Manning's gender transition, a first. And last Wednesday, in Washington, the U.S. Army Court of Criminal Appeals issued an order saying that references to Manning in all future decisions, filings, and orders should use female or gender-neutral pronouns. The United States government is unlikely to champion her as a whistleblower—but Manning and her attorneys have managed to make the government see things her way when it comes to her gender, which is its own accomplishment.