Obama Orders Expansion of Sanctions on Venezuelan Officials
Angela Greiling Keane, Anatoly Kurmanaev and Nathan Crooks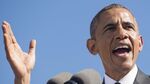 President Barack Obama expanded U.S. sanctions against Venezuelan officials and declared worsening relations with the country to be a national emergency amid attempts by President Nicolas Maduro to stifle dissent.
The sanctions target people responsible for eroding human rights, persecuting political opponents, curtailing press freedoms and using violence or arrest against protesters. Obama notified Congress of his executive order on Monday.
"We are committed to defending human rights and advancing democratic governance in Venezuela through the use of financial sanctions," U.S. Treasury Secretary Jacob Lew said in an e-mailed statement.
The sanctions are the latest volley in an escalating conflict between the U.S. and Venezuela. Maduro has cracked down on his opposition and accused the U.S. for supporting an "endless coup" against his government as the country's economic difficulties drain his support.
Seven people were put on the sanctions list, including the director of the national intelligence service, law enforcement and defense officials, according to a White House statement.
The U.S. action targets individuals and won't affect Venezuela's oil industry, which accounts for 95 percent of the country's exports, according to administration officials, who briefed reporters on condition of anonymity.
Contracting Economy
Maduro, speaking in a national address to respond to the sanctions, said he will request special legislative powers Tuesday. Vice President Jorge Arreaza will deliver the proposal to National Assembly President Diosdado Cabello, he said.
"I have put together a law that gives me special powers to preserve the peace, the integrity and the sovereignty of the country before any situation that presents itself due to this imperialist aggression," he said.
Maduro called Obama's sanctions the "most aggressive, unjust and disgraceful" action against Venezuela ever. He also named Gustavo Enrique Gonzalez Lopez, one of the seven people named in the sanctions, the new Interior Minister.
The 50 percent drop in oil prices in the past year has buffeted Venezuela's economy and inflation reached 69 percent in December, the fastest pace in the world. The International Monetary Fund forecast the economy will contract 7 percent this year.
Bonds Slump
The yield on Venezuela's benchmark dollar bonds due in 2027 rose 104 basis points to 24.89 percent in New York Monday, the biggest increase on a closing basis since Feb. 19. The price fell 1.94 cent to 40.5 cents on the dollar.
The U.S. move risks stoking "more conflict between the two countries," David Smilde, senior fellow at the policy group Washington Office on Latin America, said by phone from Caracas. "If you look at the names that they have included, they are pretty mid-level officials, making it less provocative than it could've been. However, the declaration of the state of emergency with respect to Venezuela, makes the optics of it very negative."
Venezuela's Foreign Minister Delcy Rodriguez declined to comment when asked about the sanctions during a press conference on state television.
Maduro's Defiance
Earlier this month the Venezuelan leader demanded that the U.S. cut its embassy staff in Caracas. U.S. officials who remain in the South American country will be required to obtain approval for any meetings they hold there.
Maduro said Feb. 28 in a national address following a pro-government march in Caracas that Venezuela wouldn't accept U.S. sanctions.
"The U.S. thinks it owns the world," he said. "They give their opinions all over. Something happens in Asia, and a spokesperson comes to speak out against it. What is that? Are we going to accept a world government?"
It isn't up to Venezuela to accept the new sanctions, the Obama administration officials said. The latest measures are within the purview of the U.S. and apply to doing business with and travel to the U.S., they said.
In February, the U.S. expanded visa restrictions on Venezuelan government officials believed to be complicit in human-rights abuses and public corruption. Maduro responded by imposing visa requirements for U.S. citizens visiting Venezuela.
With domestic opposition rising, Maduro has blamed the U.S. government for trying to destabilize his government. The U.S. State Department has called his allegations baseless.
Violent Demonstrations
Sporadic protests across Venezuela broke out last month as Maduro cracked down on opposition politicians with the arrest of Caracas opposition Mayor Antonio Ledezma.
Last month Venezuela banned some current and former U.S. government officials from entering the country. They include former President George W. Bush, former Vice President Dick Cheney, former Central Intelligence Agency Director George Tenet, and Senator Marco Rubio, a Florida Republican who is a possible presidential hopeful.
The U.S. imported 743,000 barrels of oil a day from Venezuela in December last year, down from 847,000 barrels of oil a day in the same month of 2013, according to the U.S. Energy Information Administration.
"Venezuela needs the United States more than the United States needs Venezuela," Christopher Sabatini, adjunct professor of Latin American Studies at Columbia University. "With the collapse of oil prices and shale boom, the U.S. doesn't need Venezuela as much. Venezuela needs the money."