Obama Exchanged E-Mail With Clinton on Her Personal Address
Justin Sink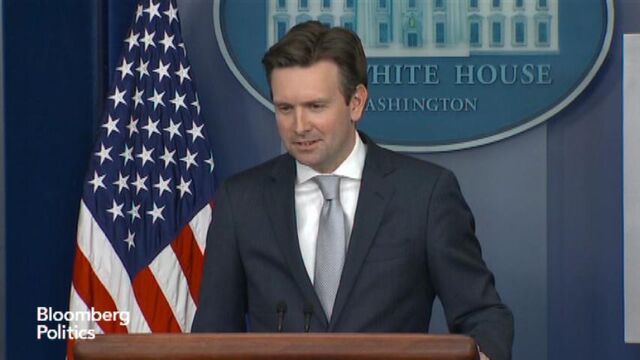 President Barack Obama exchanged e-mails with Hillary Clinton on her personal address while she was secretary of state, but he didn't know any details about how it had been set up, White House press secretary Josh Earnest said.
"The president, as I think many people expected, did over the course of his first several years in office trade e-mails with his secretary of state," Earnest said on Monday. "I would not describe the number of e-mails as large, but they did have the occasion to e-mail each other."
The president said Saturday in an interview with CBS News that he first heard about Clinton using an e-mail system outside of the government for official business "the same time everybody else learned it through news reports."
Earnest said that while Obama likely recognized the e-mail address that he was responding to was not a government account, the president was referring to the fact that he didn't know Clinton was using a personal e-mail server that was kept at her house or that she was using that exclusively for government business.
The Republican National Committee, in an e-mail, called Obama's remarks in the CBS interview "misleading at best."
The revelation last week that Clinton used a private e-mail account during her tenure at the State Department has created a political headache for the White House and for Clinton's all-but-certain presidential campaign.
Political Headache
Clinton likely will hold a news conference in coming days to explain why she used a private account, said two people close to Clinton who asked for anonymity to discuss the matter.
Critics charge that her use of a private server may have made sensitive diplomatic information more vulnerable to a cyber-attack. Clinton is also facing questions about whether her team turned over all relevant e-mails to the State Department after she left office.
Representative Trey Gowdy, the South Carolina Republican heading the special committee investigating the deadly 2012 attack on U.S. diplomatic compound in Benghazi, Libya, suggested Sunday that Clinton may have failed to turn over all e-mails relating to the attack.
There are gaps of months and months and months,'' Gowdy said on CBS's "Face the Nation" program. He said he has received no e-mails from a day when Clinton was photographed on a trip to Libya using her BlackBerry.
Record-Keeping Rules
Earnest said that smartphones could be used for a number of purposes, including reading the news and sending text messages. He said there's no indication that Clinton was in violation of federal record-keeping rules by using a personal e-mail address.
"There is a strong record of the State Department working closely with legitimate and even some illegitimate congressional inquiries into this particular matter," he said.
Clinton said last week that she wanted the State Department to publicly release the entire e-mail archive she provided to the department. The State Department said it was vetting the more than 55,000 pages of documents and warned that such an effort would take time.