Iran Hawks See a Possible Conspiracy in Menendez Corruption Leak
It seems too perfect for the news to emerge as the Iran drama builds.
By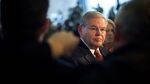 BEDFORD, N.H.–A Democratic senator is hit with corruption charges. A Republican governor stands ready to replace the senator if he resigns. On paper, it's easy to imagine the troubles of New Jersey Senator Robert Menendez setting up a partisan power struggle.