Brooklyn's Industry City to Get $1 Billion Modernization
David M. Levitt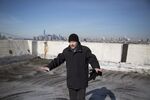 A late 19th century industrial complex on New York's Brooklyn waterfront is slated for a $1 billion makeover that aims to transform the property into a modern hub for manufacturing and technology.
The owners of Industry City, Atlanta-based Jamestown and its partners, plan to invest about $890 million over the next 12 years, and anticipate tenants will put in about $150 million of their own money, according to a proposal announced Monday. The project will create one of the largest centers for the "innovation economy" in the U.S., and one of New York's biggest engines of job growth, said Andrew Kimball, chief executive officer of Industry City.
Jamestown, whose other properties include Manhattan's Chelsea Market, wants to revamp the "long-underutilized relic" into a magnet for employers in fields such as food, fashion, art, media and e-commerce, according to Kimball. The investors envision drawing as many as 20,000 workers to the renovated 16-building campus, which sits between the Gowanus Expressway and New York Harbor in Brooklyn's Sunset Park section.
"People want to make things again," Kimball said in an interview. "They want to do them in urban areas, where they're interacting with other like-kind makers, and particularly on campuses where they are very directly connected with those other makers."
The group's investment is contingent on getting about $115 million of public money and agreement from the city on zoning changes to the area, Kimball told reporters at an event unveiling the plans.
Broken Windows
The partners have already spent $100 million toward modernizing the hulking gray-block buildings, and much more work lies ahead. Windows that haven't been replaced have rusted frames and are often broken. Black electrical wires cross the roofs, and old-fashioned phone lines -- still in use -- sit tangled in metal utility boxes in the buildings' corridors. Fewer than half of the complex's 144 elevators work, and only 15 are automated.
"There's a reason nobody's taken on this kind of project in the private sector up until now," said Kimball, who oversaw a similar renovation at the city-owned Brooklyn Navy Yard. "It's very hard to make the economics work with these buildings that require massive deferred maintenance to get them off the ground."
Hotel, Retail
Besides upgrading the 6 million-square-foot (557,000-square-meter) complex's infrastructure, plans also call for a university-based research facility, community-run employment office and 907,000 square feet of ground-floor retail, much of which will require city approval. Rezoning would be needed to construct a hotel and conference center at the complex, Kimball said.
Industry City was originally named Bush Terminal, after its developer, Irving T. Bush, who started on it in 1895. Much of it has sat dormant or used for low-rent storage since it began to go downhill in the 1950s.
Jamestown, along with Belvedere Capital and Angelo, Gordon & Co., bought a stake in the property in August 2013, joining its longtime owners -- billionaire Rubin Schron's Cammeby's International, and FBE Limited. The complex was already home to some artists, manufacturers, fashion designers and technology firms, such as the 3-D printer company MakerBot Industries. Flavor maker Virginia Dare Extract Co. has been at Bush Terminal since the beginning of the 20th century.
Artisanal Candy
The ownership group has done 850,000 square feet of leasing, including 300,000 square feet of previously underused space. Current tenants include a photo studio for furnishings retailer Crate & Barrel, artisanal candy makers Liddabit Sweets and Li-Lac Chocolates, and FilmRise, a film distribution and streaming service. A practice court is being constructed on a building rooftop for the Brooklyn Nets National Basketball Association team, which plays at downtown Brooklyn's Barclays Center.
The Jamestown group is seeking the city's help to upgrade the area surrounding Industry City. Many nearby streets haven't had improvements for about 100 years, and storm water pours down on the heads of pedestrians walking under the elevated Gowanus Expressway, Kimball said. He also called for a stop at Industry City's 39th Street dock on the ferry service being touted by Mayor Bill de Blasio.
'Clarion Call'
While no member of de Blasio's administration made their presence known at today's event, Kimball said the Industry City proposal is consistent with the mayor's "clarion call to the private sector" last week to step up and invest in job-creating initiatives.
The Department of City Planning is aware of Jamestown's desire for changes to the underlying zoning but hasn't yet received an application, he said, said Joe Marvilli, a spokesman.
Elizabeth Yeampierre, executive director of United Puerto Rican Organization of Sunset Park, said her group, known as UPROSE, is concerned that Jamestown's plans might create "a new Chelsea" that's too upscale for the working-class neighborhood across the highway.
"Some of the things they're doing are positive and good, but we're concerned that they are changing the character of one of the most significant industrial areas in the city," she said. "New York needs its industrial areas."
The investors are proceeding with the community's "active engagement" to attract job-generating businesses that are relevant to today's economy, Kimball said.
"There is going to be change," he said. "After decades of decline there will be an era of growth and productivity."
Before it's here, it's on the Bloomberg Terminal.
LEARN MORE