politics
Christie to Iowa Ag Hecklers: 'Glad to See New Jersey Has Come'
The New Jersey governor gets reminded of problems back home while reaching out to Iowa voters.
By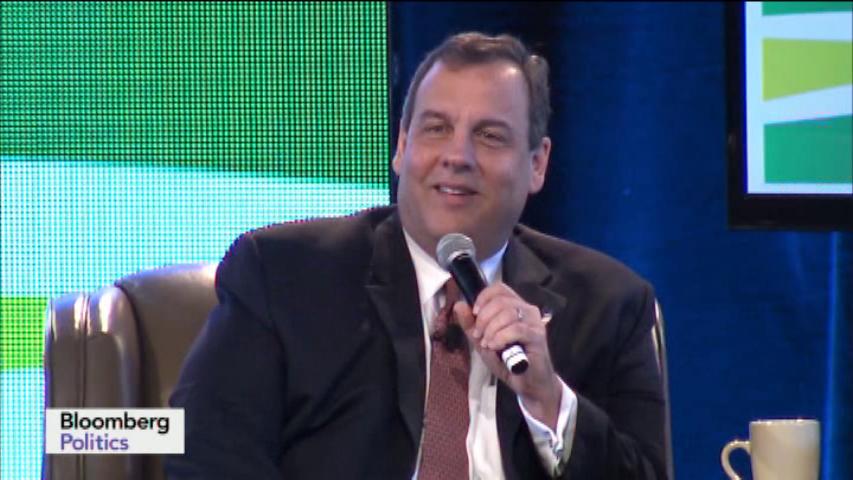 A little bit of New Jersey—or at least its politics—followed Republican New Jersey Governor Chris Christie to Iowa on Saturday. Christie was on stage answering questions at the Iowa Agricultural Summit when he was interrupted by protesters, including one with a sign drawing attention to families displaced by Hurricane Sandy in 2012. 
Christie took the interruption in stride. "I'm glad to see that New Jersey has come," he said. "How great is that? Great to have you here. And I think you understand that I'll deal with you the same way here as I deal with you in New Jersey." 
Police soon escorted the protesters out, including one person holding a sign that read: "Governor Christie Thousands of Families Still Not Home After Sandy." A recent report from the Fair Share Housing Center, a critic of how the state has handled its Sandy recovery program, said there are still 15,000 families waiting for their homes to be rebuilt. 
After the protest died down,  moderator Bruce Rastetter  joked that he thought only there were only Iowans in the crowd.
"My people follow me everywhere, Bruce, it's fabulous," Christie said. "I'm magnetic, Bruce, they can't stay away from me."
Before it's here, it's on the Bloomberg Terminal.
LEARN MORE