politics
Christie Rips Obama Over Netanyahu Disagreement
The New Jersey governor is on a three-state swing to raise funds and appeal to Republicans.
By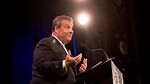 New Jersey Governor Chris Christie said Friday it was a "disgrace'' for President Barack Obama to allow a disagreement with Israeli Prime Minister Benjamin Netanyahu over Iran's nuclear program to overshadow ties between the two nations, and said the episode has eroded America's world standing.  
"What does this moment say to our allies and to our enemies around the world?'' Christie asked about 600 members of the Republican Party of Palm Beach County, Fla., during a keynote address at its annual Lincoln Day Dinner. "There is a severe price to pay when our president demonstrates openly on the world stage that our relationship with our allies is fractured and that we do not have the ability to influence thinking privately."  
The sharper focus on foreign policy was a departure for Christie, a 52-year-old moderate Republican who has set up a political action committee and signaled he's considering a run for the White House.  It also was one of several high-profile appearances he's making this week, sandwiched between his appearance as the kickoff speaker at American Enterprise Institute World Forum meeting in Georgia and a Saturday appearance at the Iowa Ag Summit in Des Moines.
"Our influence as a nation is in decline," he said. "We are being challenged by China. We are being embarrassed by Russia. We seem hapless in the Middle East. Our adversaries no longer fear our resolve, our allies are no longer confident in us."
Later, he added: "It is the job of our president, no matter how hard, no matter how frustrating, no matter how challenging it may appear, to be the one to articulate a strategic vision for the world. It is the job of the United States of America to lead, because if we do not, no one else will. Which is why the path we are on today is not the path I want for the future of our country."
Hours before the event, which took place at Donald Trump's private Mar-A-Lago club, Christie also raised money in the backyard of financial juggernaut Jeb Bush and U.S. Senator Marco Rubio, both Florida Republicans who also are considering presidential campaigns. Christie's been addressing county-level Republican organizations from Florida to California as he attempts to cast himself as a fighter and candidate who isn't owned by party bosses.
During the speech Christie promoted his record in New Jersey,  in particular his agreement with the state's teachers union, a longstanding political nemesis, on the framework of an accord to reduce pension costs. The teachers union has said the governor has overstated the case.
He also defended his often brash demeanor, which some have cited as a drawback for him.
"You know, some people say I am a passionate guy," he said. "That I can get a little loud. That I am ready for a fight. But let me be clear–I do not fight for the sake of fighting. I am passionate about the people of my state, about their future and about whether or not I can make their lives a little bit better than they were yesterday. And I will fight the fights worth fighting on their behalf."
Michael Barnett, chairman of the Palm Beach Republican group, said Bush and Rubio were also invited to address the event, as well as Florida Governor Rick Scott, Wisconsin Governor Scott Walker and former Texas Governor Rick Perry. Christie was the lone yes, he said. Conservative initial estimates were that the gathering raised $200,000 for the party apparatus in Florida's wealthiest county, he said.
Before it's here, it's on the Bloomberg Terminal.
LEARN MORE