Did Jeb Bush Go Far Enough to Try to Save Terri Schiavo to Save His Iowa Chances?
His actions in the Schiavo case were supposed to help him with evangelicals—but some of them wish he'd done more.
By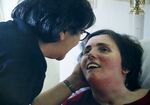 Standing at the pulpit of his Sioux City, Iowa, mega-church a decade ago, Reverend Cary Gordon wept over the death of Terri Schiavo, a brain-damaged woman who had her feeding tubes removed more than 1,500 miles away in Florida. Now, the politician mostly closely associated with trying to keep her alive is coming to the state searching for support for his prospective presidential bid.
To much of the world, it appeared as if Jeb Bush, then the governor of Florida, stood his ground against those who wanted to take Schiavo off life support. But that's not the picture that emerged for some in a crucial constituency in the state with the first presidential nominating contest.
"I'm displeased with Governor Bush," Gordon said in an interview this week. "He could have informed law enforcement, called up the National Guard, or told the county sheriff's office not to let it happen."
Bush is campaigning in Iowa on Friday and Saturday, his first trip to the state in three years. Polls show tough sledding ahead for Bush as conservatives look askew at the former governor's support for legalizing undocumented workers and his backing for the academic standards known as Common Core. Bush's two-day swing includes a fundraiser for U.S. Representative David Young, private meetings with conservative activists, and campaign-style events at an agricultural summit in Des Moines, a barbecue restaurant in Waukee and a pizza place in Cedar Rapids.

Theoretically, Bush's actions in the Schiavo case were supposed to be an antidote to his troubles with the conservative base. The strategy, as Bush and his allies have said, is to remind voters of his record in Florida, where he enjoyed strong approval ratings while implementing one of the most conservative agendas of any big-state governor. Much of that record should play well among born-again or evangelical Christians, who accounted for almost three of every five Iowa Republican caucus-goers in 2012.
As governor, Bush approved a partial-birth abortion ban, and a requirement for parental notification before terminating some pregnancies. He signed into law the National Rifle Association's first stand-your-ground law allowing deadly force in self-defense.
But the issue that would seem to resonate most with Iowa social conservatives is his showdown with the state court system over a law to reinsert Schiavo's feeding tubes. The debate over Schiavo's life, during which Bush's advisers included one of Mother Teresa's attorneys, received the attention of newspapers and television stations across the country. The Vatican weighed in, as did and then-Senate Majority Leader Bill Frist, a physician who watched a videotape of Schiavo and gave his diagnosis from the chamber floor. Schiavo's fate has been a topic in Republican presidential primary debates in the 2008 and 2012 cycles.
"Every caucus-going Republican over 30 is going to know the Schiavo story, and certainly our Christian evangelicals are going to be incredibly interested," Iowa Republican Chairman Jeff Kaufmann said in an interview. "And they're going to want more detail about that."

Getting that message out is crucial for Bush. His allies were privately thrilled with tough stories recently in the Tampa Bay Times and Politico that revisited the family tragedy, showing how the hard-charging Bush combined policy with his religious and moral beliefs to nearly lead the state into a constitutional crisis. At the Conservative Political Action Conference last week outside of Washington, Bush told the crowd he had no regrets over the fight.
"Here was a woman who was vulnerable," Bush said. "And the court, because of our laws, they were going to allow her to be starved to death. So we passed a law, Terri's Law, that was a year later ruled unconstitutional. I stayed within the law, but I acted on my core belief that the most vulnerable in our society should be in the front of the line. They should receive our love and protection, and that's exactly what I did."
But that may not be enough for some social conservatives in Iowa.
"Just because a judge wants to kill somebody, that doesn't give them the authority to do it," said Brian Rosenor, a former chairman of the Woodbury County, Iowa Republicans. "Two state troopers in front of her door would have saved her life. Jeb Bush could have done more."
Other Republicans suggested that view doesn't represent most of the state's conservative bloc. "There's a case for the governor that he's proved that he respects the dignity of all human life," said Cody Hoefert, co-chairman of the state Republican Party, said about Bush interest in Schiavo. "When it comes to protecting life, the governor was on the right side of the issue."
In a column in the Wall Street Journal last month, Schiavo's brother defended Bush's actions. "Many family members are willing to take on the responsibility of care and the long, hard work of rehabbing their loved ones to higher levels of consciousness," Bobby Schindler wrote. "All they ask is for the right to do so. All Jeb Bush did was try to help win that right for me and my family. Sadly for us, and for Terri, he couldn't."
Bush also faced calls in 2005, after exhausting legal options, to turn to law enforcement.  "I would have gone to the clinic myself, with the state troopers, and I would have talked to the folks there, saying, 'We're going to put the tube back in,'" Pat Buchanan said on MSNBC in 2005. "She's going to be fed, and she's going to be given water."
Schiavo was diagnosed as being in a "persistent vegetative state" after her heart stopped beating in 1990. With no legal will in place and a million-dollar medical malpractice settlement, the family was divided over treatment. The case gained national attention starting in as court rulings favored Michael Schiavo, Terri's husband, who maintained that his wife would not have wanted to be kept alive with feeding tubes. Bush sided with Schiavo's parents, who argued their son-in-law was an unfit guardian.
In 2005, the state sought court approval to take custody of Schiavo. Rumors circulated that Bush would use state lawmen to remove her from the hospital, so doctors could reinsert her feeding tubes. As lawyers for Schiavo's husband equated such a move to kidnapping, Florida Circuit Judge George Greer, a Republican, issued an injunction, saying that it appeared state action was "imminent." "I don't want this thing turning into a donnybrook," Greer said at the time. Bush abided by that decision. 
Marlys Popma, a prominent right-to-life activist in Iowa, said she wanted to hear directly from Bush before coming to any conclusions.
"I prayed for her when she was going through that and her parents," Pompa said in an interview. "We're talking about life and death, and how far some is willing to go to protect that is really important."