What's in Your Water?
Sick of coconut water? Try artichoke, birch, and these others instead
By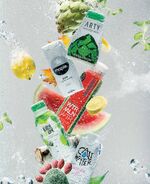 Following the success of bottled coconut, plant-based beverages fight to become this year's "it" hydrator.
Wtrmln Wtr Watermelon Water
$72 for 12 bottles; wtrmlnwtr.com
Marketed as both a sports drink and a beauty enhancer, it's made by cold-pressing melon flesh and rind, then adding lemon juice. It's not diluted, so it's pretty sweet.
Healthy? The fruit's got vitamins A and C; antioxidants such as lycopene, said to fight signs of aging; and L-arginine, which may strengthen hair.
Make it yourself: Watermelon chunks, blender, go.
---
Byarozavik Birch Tree Water
$41.88 for 12 bottles; byarozavik.com
This centuries-old drink is common in Scandinavia, Russia, and China, where the trees are tapped for their sap each spring. It's slightly sugary, with a woody taste.
Healthy? Birch sap is loaded with minerals such as calcium, zinc, iron, potassium, and magnesium, as well as xylitol—a natural sugar that's been found to prevent cavities—and saponins, which some studies suggest may block cholesterol absorption.
Make it yourself: Not unless you have a birch farm.
---
Arty Artichoke Water
$10.88 for four bottles; artywater.com
Arty presses the entire vegetable—heart, stem, leaves, and flower—then improves the flavor with lemon, apple, mint, and sweet agave. It tastes like iced green tea.
Healthy? One U.S. Department of Agriculture study found artichokes have among the highest antioxidant levels among vegetables. The nutrients may lessen joint pain, ease muscle soreness, and help liver cells regenerate.
Make it yourself: Boil one artichoke in a gallon of water for two hours. Strain, then drink hot or chilled.
---
Drink Maple Water
$9 for three boxes; drinkmaple.com
When maple trees are tapped in the spring, the thin sap is boiled down to make syrup. Maple water is that sap sans processing: It's 98 percent water and 2 percent sugar—so it's refreshing, not cloyingly sweet.
Healthy? It has half the calories and sugar of coconut water. Research from the University of Rhode Island found 20 nutrients in syrup, including electrolytes and amino acids that may support digestive health and prevent cancer.
Make it yourself: That would require tapping a tree during a brief harvest.
---
Caliwater Wild Prickly Pear Water
$34.99 for 12 cartons; drinkcaliwater.com
Each box blends cactus fruit puree (for flavor) with powdered cactus extract (for nutrients). The resulting pink nectar has an earthy, berrylike flavor that may be recognizable from some Mexican dishes.
Healthy? For thousands of years, desert communities have ingested prickly pear for nutrition; some say it wards off diabetes. Antioxidants found in the fruit may ease hangovers.
Make it yourself: Boil cactus pieces for three minutes, then cut into smaller pieces. Cover with fresh water, boil for a few more minutes, then strain and cool until cold.
Before it's here, it's on the Bloomberg Terminal.
LEARN MORE