Marco Rubio Has Lots of Ideas, but Few Legislative Victories
The potential presidential candidate touts a robust policy agenda, but many of his big ideas haven't been turned into legislation.
By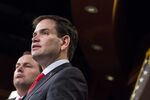 U.S. Senator Marco Rubio built upon his reputation as one of the Republican Party's top thinkers on Wednesday, as the potential presidential candidate outlined a plan to rewrite the U.S. tax code to include new breaks for families and lower rates on business income. But parents and job creators might not want to adjust their budgets quite yet.