In Europe, the Refugees Keep Coming
Attempts to stop asylum seekers in Libya and Ukraine have failed
By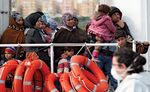 On a wintry day in early February, four rubber dinghies—each loaded with more than 100 people—pushed off the Libyan coast into the icy Mediterranean and headed toward Europe. By the time the Italian coast guard reached the first boat on Feb. 9, seven of the would-be migrants had frozen to death. An additional 22 died as they were being ferried to shore through 25-foot waves. On Feb. 11, a cargo ship discovered nine other survivors clinging to what was left of the second and third dinghies. Of the fourth, no trace was ever found.
About 56 million people in the world have been displaced by conflict, the highest number of people pushed out of their homes since World War II. The vast majority are fleeing Africa and the Middle East, and many have their sights on Europe. This is putting pressure on asylum systems across the continent as the European Union struggles to form a consensus among governments with little political incentive to deal with a humanitarian catastrophe.

In 2014 more than 170,000 migrants arrived by sea in Italy, according to the International Organization for Migration (IOM). An additional 3,300 died trying. Italy's proximity to Libya makes it a primary destination for migrants from North Africa. In the first two months of 2015, roughly 8,000 people risked the dangerous crossing—a 45 percent increase from the same period a year earlier—and more than 300 died.
Many of the arrivals had fled persecution and war in their home countries, only to be threatened with beatings or death by traffickers in Libya. "As soon as the seas calm, there'll be many more," says IOM spokesman Flavio Di Giacomo. "As one Gambian man who arrived in Italy told me, 'We're between the devil and the deep blue sea.' It's an expression, but in this case it's also exactly what's happening."

The early part of the crisis had, in fact, begun with a deal with the devil. Starting in the early 1990s, European policy on asylum seekers gradually evolved until the top goal was to minimize the number of people who got a chance to apply. In 2004, Italy's then-Prime Minister Silvio Berlusconi struck a secret deal with dictator Muammar Qaddafi to prevent migrants from leaving the coast of Libya. Qaddafi made the arrangement explicit in 2010, shortly before he was deposed, when he tried to get the Italians to pay him €5 billion a year in exchange for his services. He made the demand in a joint press conference with Berlusconi in Rome, saying that without his cooperation Europe would become "another Africa." Said Qaddafi: "Tomorrow, Europe might no longer be European and even black as there are millions who want to come in." Italy declined to meet Qaddafi's terms but did pledge €5 billion in investments. His fall spelled the end of that arrangement—and since then the refugee boats have been heading toward Italy.
Other EU member states forged accords with Libya, as well as Morocco, Tunisia, Ukraine, and others. The EU spent billions of euros to train and equip border guards and build up countries' capacity to process and host refugees before they could set foot on EU soil to apply for asylum. Keeping refugees from applying and receiving asylum is important to every EU member, because a citizen or resident of one nation has the right to travel to and live in all the others.

In Ukraine, civil and military upheaval has caused the EU program to deteriorate, though not as dramatically as in Libya. Ukraine continues to build and staff detention camps to house refugee Afghans, Somalis, and other survivors of conflicts, effectively keeping them from reaching the EU and asylum.
International refugee law, as formulated in 1951 and 1967, declares that no nation can turn away a person in need of protection and that refugees have a right to seek asylum upon arrival. By outsourcing their immigration control to other countries, EU members can claim to be technically in observance of the law. But the setup has left asylum seekers in unstable and sometimes despotic countries, exposed to abuse, extortion, rape, neglect, and forceful and illegal deportation to their home countries. From May 2009 to the beginning of the Arab Spring in 2011, Italian ships intercepted at least 1,000 people at sea and handed them over to Qaddafi's Libya—a practice later found to be in breach of the European Convention on Human Rights by the European Court of Human Rights.

European Commission President Jean-Claude Juncker has included among his priorities the development of a new "European Agenda on Migration." The challenge for policymakers will be to reconcile the continent's legal obligations under international law with the instinct of national politicians to slam the door shut. Of the migrants who arrived in Europe last year, about half will be judged to have a valid claim to stay.
One possible approach, suggested by some policymakers, is the establishment of a process in which asylum seekers who go through countries such as Jordan, Lebanon, or Kenya could apply without making hazardous crossings into Europe. But anti-immigration sentiment and the fear of terrorism make it likely that only a token number of applicants will be admitted—leaving the others to risk the same dangerous journey.

"These people will come anyhow," says Christopher Hein, director of the Italian Council for Refugees. "We have no means to decide who is coming or how many are coming. But what we can decide is how they will come."
The bottom line: With 56 million displaced by conflict worldwide, the EU has become a favorite destination for asylum seekers.
Before it's here, it's on the Bloomberg Terminal.
LEARN MORE