This Old House
A home to grow old in—safely
By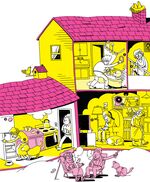 Most Americans say they want to grow old in their homes. The market for gadgets and other products to help them do that could reach $20 billion by 2020, says Laurie Orlov, an analyst at Aging in Place Technology Watch. Here's a mix of low- and high-tech offerings.
1. A safer bathroom
Sabi, a Silicon Valley design studio, is selling a line of mirrors, shelving, and grab bars that are ergonomic, attractive, and easy to assemble. The items, priced between $30 and $160, are sold on Sabi's website and will soon be available on Target.com.
2. Hold steady
WalkJoy, a device that straps below the knee, helps those who have lost feeling in their legs maintain balance by sending an electric pulse to the brain when a foot strikes the ground. Priced at $3,495 a pair.
3. Senior tracker
Lively is a system of motion sensors to be deployed in high-traffic areas—attached, say, to a refrigerator door or a rocking chair. A communications hub reports back to caregivers if there's a change in the senior's routine. Available online for $49.95, plus a monthly subscription starting at $27.95.
4. A smart(er) TV
Independa, a U.S. startup, has developed software for a TV that supports video chats, e-mails, and photos. A virtual assistant named Angela appears on screen to remind the viewer to take his meds. Sets range from $399 to $1,399; monthly service is $49.95. Available through Independa.com.
5. Merging safety and fashion
To guard against hip fractures and other injuries from falls, ActiveProtective Technologies is designing a waist belt with a built-in air bag. Due out in about 18 months, its price isn't available.
6. Make it modular
Architect Michael Graves, who has designed homes for disabled veterans, has become an advocate for wheelchair-friendly features such as height-adjustable kitchen counters and removable sink cabinets. Both may be included in the "Forever House" his firm is building for a boomer couple in Minnesota. Price not available.
7. Home companion
A professor at the MIT Media Lab has developed a one-foot-tall stationary robot outfitted with high-resolution cameras and microphones. Jibo greets members of a household by name and can be commanded to snap a photo, set up a video chat, or order takeout. Sells for $599 on Jibo.com.
Before it's here, it's on the Bloomberg Terminal.
LEARN MORE