Why Scott Walker Should Hope the Supreme Court Leaves Obamacare In Place
185,000 Wisconsinites may lose their insurance if the courts decide against the ACA—which is a lot of horror stories for a presidential candidate to withstand.
By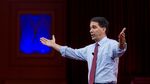 The Supreme Court's decision in King v. Burwell, which was argued Wednesday, could have profound political and economic effects. As I write in the current issue of Bloomberg Businessweek, a court decision eliminating federal subsidies for 34 states under the Affordable Care Acts could lead to 9.6 million people losing their insurance and premiums skyrocketing for many more.