Almost Two Thirds of Voters Want Ground Troops Fighting ISIS, Poll Says
Almost three quarters say the U.S. should never pay a ransom to free a hostage.
By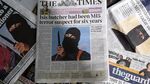 By a wide margin, Americans voters support sending ground troops to fight Islamic State militants in Iraq and Syria, according to a Quinnipiac University poll released Wednesday.
Sixty-two percent said they support boots on the ground, while 30 percent said they do not. The response comes after well-publicized deaths of the group's hostages, including the American captive Kayla Mueller, and the revelation that a militant in their beheading videos known as "Jihadi John" came from a well-educated, middle-class background in the U.K.
Americans are not inclined to change the U.S. policy of not paying ransoms for hostages, according to the poll. Seventy-two percent said the government should never pay.
Pivoting to stateside events, the poll addressed former New York City Mayor Rudy Giuliani's recent comment that he did not believe the president loves America. Sixty-three percent in the poll split with Giuliani, saying they believe President Barack Obama does love the country, while 28 percent said they disagreed.
The poll reached 1,286 voters by phone from Feb. 26-March 2. The margin of error was plus or minus 2.7 percentage points. 
For more, read this QuickTake: U.S. War Powers