Ted Cruz Plays to Sheldon Adelson on Israel and Iran
The Texas senator says he believes the Obama administration thinks it is "perfectly acceptable" for Iran to acquire a nuclear weapon.
By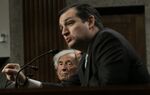 Senator Ted Cruz is unabashed about his support for Israel and his contempt for Iran, and Monday he made sure that mega-donor Sheldon Adelson knows it.
A day before Israeli Prime Minister Benjamin Netanyahu addresses a joint meeting of the U.S. Congress the Texas Republican was the only lawmaker to join Elie Wiesel, the Nobel Peace Prize-winning Holocaust survivor, in a Senate hearing room Monday for a panel discussion titled "The Meaning of Never Again: Guarding Against a Nuclear Iran."
In the talk, which was moderated by American Orthodox Rabbi Shmuley Boteach, Cruz's criticism of President Barack Obama was pointed and included a claim that the administration doesn't really want to stop Iran from developing nuclear weapons.
The only "natural'' consequence of Obama's efforts to negotiate with Iran, "is that Iran will have a nuclear weapon,'' said Cruz, as casino and hotel magnate Adelson, who is Jewish, looked on from the audience.
"Those who are leading this negotiation fundamentally don't understand who it is they are negotiating with,'' Cruz said. "I think their view is it's perfectly acceptable for Iran to have nuclear weapons, and they will be part of the rational community of nations.''
Foreign policy is becoming a defining issue of the 2016 presidential pre-game season as Republican primary voters cite terrorism as a top concern. Cruz is trying to get out ahead of Senator Marco Rubio, the Florida lawmaker on the Senate Foreign Relations Committee, who is trying to use that post to set himself apart from his potential rivals.
Cruz also wants to capitalize on his rivals' potential liabilities when it comes to the subject of Israel. In 2011, for instance, Kentucky Senator Rand Paul described foreign aid to Israel as "welfare.'' Cruz wants to convince primary voters that he is the Republican who embodies former President Ronald Reagan's model of American power.
In the past year, Cruz, whom Shmuley described as "a lion in the defense of Israel,'' has personally met at least twice with Netanyahu and, separately, with Knesset Speaker Yuli Edelstein. 
During Monday's panel discussion, Wiesel drew several parallels between Iran and Germany prior to World War II. He said Americans looked away while Nazi leader Adolf Hitler was exterminating Jews at Auschwitz.
"We have to take them seriously,'' he said of Iran. "I need proof that Iran has changed its policy. If the evil begins its work, don't give it another chance.''
Cruz, who is a member of the Armed Services Committee, used a similar World War II analogy to argue that, if Obama negotiates a deal that allows Iran to go forward with nuclear weapons, it will have potentially devastating human consequences.
"History may well record it as a mistake and a catastrophe on the order of magnitude of Munich,'' said Cruz, referring to the 1938 deal that allowed Hitler to annex portions of Czechoslovakia. "When our negotiators return with a promise of peace in our time, we should believe this no more now than we should have believed it then.''