politics
Nancy Pelosi Says Netanyahu's 'Insulting' Speech Had Her 'Near Tears'
The House minority leader issued a strong rebuke of the Israeli prime minister's speech.
By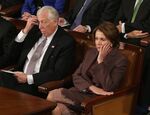 When it comes to her opinion of Benjamin Netanyahu's Tuesday speech before Congress, House Minority Leader Nancy Pelosi is not mincing words. In a statement released shortly after the Israeli Prime Minister vehemently argued against a nascent deal between the United States and Iran, Pelosi lashed out at Netanyahu's "insulting" speech. 
"The state of Israel stands as the greatest political achievement of the 20th century, and the United States will always have an unshakable commitment to Israel's security," Pelosi said in a prepared statement. "That is why, as one who values the U.S. – Israel relationship, and loves Israel, I was near tears throughout the Prime Minister's speech – saddened by the insult to the intelligence of the United States as part of the P5 +1 nations, and saddened by the condescension toward our knowledge of the threat posed by Iran and our broader commitment to preventing nuclear proliferation."
While Netanyahu stated that he did not intend his speech to be viewed in political terms, its reception from U.S. lawmakers showed the opposite. Many Republicans rushed to praise Netanyahu and chastise President Obama. 
During the speech, which more then 50 Democrats did not attend, Pelosi did not exactly hide her displeasure with Netanyahu's attempts to scuttle the emerging deal with Iran. 
Once Pelosi's statement began to be circulated, it only served to amplify the partisan rancor that began when House Speaker John Boehner invited Netanyahu to speak to Congress without first consulting the president. Outlets like National Review, for instance, took the opportunity to mock Pelosi for what they perceived to be her immaturity. 
For some GOP critics, what stood out about Pelosi's remarks was her line about being near tears. 
Other Democrats, like Senator Dianne Feinstein, sided with Pelosi by pointing out that Netanyahu should give the negotiations with Iran a chance to work. 
For more, read this QuickTake: A Dimming Dream for Israelis and Palestinians
Before it's here, it's on the Bloomberg Terminal.
LEARN MORE