House Moves to Avoid Homeland Security Shutdown With Funding Vote
Billy House, Erik Wasson and Jonathan Allen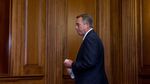 Congress is on track to end a showdown over Homeland Security Department spending and immigration policy after House Speaker John Boehner defied hard-line Republicans by allowing a vote on agency funding through September.
The House moved toward a vote Tuesday on a Senate-passed bill that doesn't reverse President Barack Obama's November orders on immigration. Boehner, an Ohio Republican, capitulated to Democratic demands to bring the bill up, and House Minority Leader Nancy Pelosi immediately agreed to back the plan with votes from her caucus.
Congress's duty is to "provide funding for government -- all of government," said Representative Mike Simpson of Idaho, a Republican who supported passage of the bill. The measure "is the only path forward to avoid a potentially devastating shutdown" of the Homeland Security Department, he said.
Arizona Republican Matt Salmon contended lawmakers should continue make a stand against Obama's immigration orders.
"If we're not going to fight now, when are we going to fight?" Salmon said.
The department's spending authority is set to run out after Friday, and Boehner wanted to avoid a repeat of the Feb. 27 spectacle in which Tea Party-aligned Republicans and House Democrats combined to defeat a three-week funding extension.
'Right Thing'
Obama spokesman Josh Earnest said, "The White House has been urging the Congress for months now to do the right thing and that is pass a full-year funding bill for the Department of Homeland Security that does not include any politically motivated riders."
"We are pleased that congressional leaders in the House have apparently relented," Earnest said.
Some Republicans have said Boehner's retreat could imperil his grip on the speaker's gavel. That's one reason he had been reluctant to rely on Democratic votes to pass major legislation. What his detractors haven't done is put forth a candidate who could replace him.
Tea Party Republicans had insisted that any funding measure also block Obama's November orders shielding about 5 million undocumented immigrants from deportation. The measure to be voted on is a so-called clean bill that drops that language.
Representative Bill Huizenga, a Michigan Republican, predicted that the measure would pass with Democratic votes.
'How Many'
"The question is how many" Republicans would vote for it, Huizenga said. "Is it 40, is it 80? I don't think it's going to be half" of the House Republicans, said the lawmaker, who said he plans to vote against the measure.
Democrats oppose tying agency funding to immigration policy, and Obama said he would veto any reversal of his orders. Senate Democrats five times blocked proposals in their chamber that included the immigration language.
"House Democrats have made it clear we support full, long-term funding," Pelosi, a California Democrat, said in a statement. "We shouldn't wait another day to remove all doubt" that the agency will be funded, she said.
Boehner tried and failed to pass a three-week funding bill on Feb. 27 to allow more time for negotiations. The measure was brought down by conservatives, with 52 Republicans voting against it as leaders tried to cajole their support in a chaotic House floor scene.
Stopgap Spending
Later that day, the House passed a one-week stopgap bill with Democratic support. Also on Feb. 27, the Senate passed its version of the bill, H.R. 240, providing $39.7 billion to fund the agency through September without the immigration language.
The immigration issue has dominated a congressional calendar that Republican leaders -- in control of both chambers since January -- wanted to fill with debate over priorities including job creation, health-care policy and curbing business regulations. The debate also risks alienating Latino voters before the 2016 presidential election.
Senate Majority Leader Mitch McConnell, a Kentucky Republican, had said there would be no government shutdowns like the 16-day partial shutdown in 2013.
Boehner told fellow Republicans during a closed-door meeting that a partial shutdown of the Homeland Security Department wasn't an option and that another short-term spending bill was unlikely to pass, according to a legislative aide who was in the room.
Temporarily Blocked
The speaker said a lawsuit that has temporarily blocked the Obama administration from carrying out his immigration policy is the best chance for overturning it, said the aide, who sought anonymity to describe the private meeting.
The House is using a seldom-used rule that lets any member call for a floor vote on a bill when the House and Senate have passed conflicting versions. Although the majority party can block use of the rule, Republicans decided not to do so in this case.
"You are going to see a strong vote for this from the conference," said Representative Pat Meehan, a Pennsylvania Republican.
Representative Steve King of Iowa had warned on Feb. 27 that if Boehner were to bring a full-year funding bill without the immigration language to the floor, his speakership could be in jeopardy.
'People Lost'
"I'd say the American people lost," King said Tuesday. "They lost a part of the Constitution to the extortion of Democrats."
Some Republicans opposed to Boehner have formed a new group called the "House Freedom Caucus." Members of the group seemed resigned to losing the fight over Homeland Security funding when they emerged from a morning meeting at the Capitol Hill Club with Boehner.
Fleming said the caucus didn't take Boehner's action personally and that members tried their best to move the party toward their position on the dispute. He said it would be up to a federal court to stop Obama's immigration actions now.
Representative Raul Labrador of Idaho, a leader of the battle over the Homeland Security bill, shook his head and declined to comment Tuesday on a possible vote.
House Rules Committee Chairman Pete Sessions of Texas said he was "disappointed" to hear a characterization of the decision to allow a vote on a clean bill is a win for the country.
"A win for the country is when we agree to sit down at the table and resolve differences," said Sessions in an interview. "That's a win for the country."
Partial Shutdown
Homeland Security Secretary Jeh Johnson said Feb. 26 that a partial shutdown of his agency would require 30,000 Homeland Security employees to be furloughed and 170,000 essential personnel to keep working without pay.
The confusion over Homeland Security spending followed episodes last month when Boehner had to pull a border-security bill and an anti-abortion measure from the floor for lack of support.
In the 2015 session's opening moments on Jan. 6, Boehner was a target of Republican opposition, as 24 of his party members voted for someone else to be speaker. He won the election, though with votes from less than half of the full House membership.