A Cautionary Tale on QE for Mario Draghi's ECB
Max Julius and David Goodman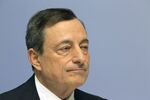 Spasms of volatility upend markets. Dealers dump securities they've hoarded and borrowing costs surge.
That's one scenario investors risk as they prepare for the European Central Bank's bond-buying program. And their biggest reason for concern is because it happened before. Japan's government-debt market was rocked after its central bank expanded a quantitative-easing program in April 2013.
In the euro area, with yields today near their lowest on record, a failure by the ECB to explain more about its 1.1 trillion-euro ($1.2 trillion) bond-purchase program set to begin as soon as this week may spark price swings, according to Sandra Holdsworth, a money manager at Kames Capital in Edinburgh. While the size of the plan is known, the distribution and mechanics of ECB buying are still a mystery.
Japanese 10-year yields were likewise driven to a record low after the Bank of Japan augmented its plan in 2013. Then they more than doubled in five weeks amid confusion by banks that were supposed to help facilitate trading of the securities.
Japan's central bank "was pretty unclear about what they were buying and when they were buying it," Holdsworth, who helps oversee the equivalent of about $82 billion, said by phone on Feb. 25. "Market makers loaded up on inventory to sell to the Bank of Japan, and the Bank of Japan didn't buy it, so they had to dump it, and then volatility rose -- and that panicked them even more."
In a bid to tame those gyrations, the BOJ said it would boost the number of purchases it held each month.
Significance Versus Detail
ECB President Mario Draghi has previously made policy announcements that were high on significance and initially low on detail.
His pledge in July 2012 to do "whatever it takes" to save the euro spurred a 27 percent rally in securities across the region since that month. Yet the vow initially evolved into a program that was never used, which would buy the bonds of troubled states through a type of transaction that was never made clear.
The ECB has an opportunity Thursday when it holds a policy meeting in Cyprus to flesh out the features of the expanded asset-purchase program it unveiled in January. A spokesman for the central bank declined to comment.
While the ECB has said it will buy 60 billion euros a month of public and private debt until September 2016 to revive inflation in the region, many questions remain for investors.
Questions Unanswered
These include how much the Frankfurt-based central bank will spend on each class targeted, as its monthly budget will include existing programs to buy covered bonds and asset-backed securities, as well as government and agency bonds.
The method of purchases is another: Will these be conducted via reverse auctions, like the Federal Reserve did, or on the secondary market, as ECB has done previously?
Should the ECB leave most of these questions unanswered before it begins hoovering up the securities, the rally in bonds may pause, according to Anish Popat, a strategist in London at Mizuho International Plc.
"People will be expecting at least some information, or for the ECB to come into the market" without announcing much more on its plans, Popat said. Investors still don't know exactly when the central bank will start buying government debt. "So if you don't get either of those things, you might get a bit of a selloff in the periphery and markets generally."
Records in Week
The yield on German 10-year bonds touched a record 0.283 percent on Feb. 26, while rates on similar-maturity Dutch, Irish, Italian, Spanish and Portuguese debt also tumbled to records last week. Euro-area bonds returned 13 percent in 12 months through Feb. 27, beating the 2.8 percent earned by Japanese debt, according to the Bloomberg World Bond indexes. The German 10-year rate was 0.32 percent as of 2:48 p.m. in London on Monday.
In the year after the BOJ announced its decision in April 2013 to expand its monetary base by 60 trillion to 70 trillion yen ($590 billion), Japanese bonds climbed 0.7 percent. The central bank boosted the target to 80 trillion yen in October 2014.
The level of transparency in the program and how the ECB will calculate its self-imposed limits on purchases are also issues that are yet to be clarified. Transactions in securities purchased under the program will be published in a weekly report, according to an ECB statement on its website.
There are key differences between the government-bond markets of the euro area and Japan, such as the much higher level of domestic ownership in JGBs.
Selloff Speculation
This means the securities of countries like Germany and Italy may not be buffeted to the same extent as their Japanese counterparts in the spring of 2013, when historic 10-day volatility on 10-year yields jumped to the highest in at least a decade.
Any selloff is unlikely to be major, Popat said, noting that the prospect of the purchases would offer support. Allan von Mehren, chief analyst at Danske Bank A/S in Copenhagen, agrees.
"At the margin it would be bad we don't get details, but the market is quite robust right now," he said. "The sky is clearer than it has been for a long time."
Still, after triggering a rally in the government bonds that pushed yields to record lows across the region, there's scope for at least an intermission in that advance if the ECB is less forthcoming on QE than investors expect.
"I'm looking for a bit more clarity on what they're going to buy, and when," said Kames's Holdsworth. "And I think I'm going to be disappointed on that clarity."
Before it's here, it's on the Bloomberg Terminal.
LEARN MORE