Clinton Team Issues Talking Points After Negative Foundation Stories
The outreach is evidence of Hillary Clinton's frustration with the current storyline about her family's foundation.
By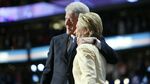 Nearly two weeks after the start of a new round of scrutiny of the Clinton Foundation's donors, Hillary Clinton's team finally weighed in on Monday—but only indirectly.
With a set of talking points, Clinton spokesman Nick Merrill encouraged allies to push back when talking to reporters or anyone else, stressing all the good the foundation has done around the world. 
"It's been a little while since we've sent one of these, but given the attacks on the Clinton Foundation as of late, we wanted to send around some points in hopes that you will join us in defending the good work the foundation does and will continue to do," Merrill wrote, offering "some points that we hope you can hit when talking to reporters, are on air, or even just with friends and people in your communities."
A Democrat shared the e-mail with Bloomberg Politics after the talking points were first published by Capital New York. 
While the former secretary of state hasn't herself spoken out, Merrill's outreach is evidence of her frustration with the current storyline on the foundation, which has been almost exclusively negative for her and former President Bill Clinton.
Reporting from several news organizations has highlighted the foundation's acceptance of contributions from foreign governments—including at least one during Clinton's years in the State Department that didn't go through the ethics review the Obama administration had put in place when she took the job. And a story published late Sunday by Politico details in-fighting at the foundation that led to the departure of foundation CEO Eric Braverman after a year-and-a-half there.
In all that coverage, "there has been little mention of the good work the foundation does, and that it is without a doubt a world-class philanthropy," Merrill said, imploring Clinton supporters to highlight the foundation's achievements.
Clinton allies, including the groups Correct the Record and Ready for Hillary, haven't done much to respond. In TV appearances and print interviews, some Democrats have pushed back, but only mentioned the foundation's achievements in general terms. The talking points are more specific about where the foundation has had an impact.
Clinton has made only one public appearance—in Silicon Valley last Tuesday—since the new round of scrutiny started, and while technology journalist Kara Swisher conducted a question-and-answer session that was widely praised for pushing Clinton off her talking points, Swisher did not ask her about the foundation. 
That it took almost two weeks since the first Wall Street Journal story on recent foreign contributions for Clinton's team to respond is a reminder of how small her official team is. That's been a sign to some in her orbit that she needs to move quickly to fully launch her presidential campaign in the coming weeks and not move to another stage of limbo by launching an exploratory committee.
Clinton's next public appearance is set for Tuesday night, when she will speak at the Emily's List 30th anniversary gala.