Buffett: Elizabeth Warren Is Too 'Angry and Demonizing'
The 84-year-old Berkshire Hathaway CEO and Hillary fan said the Wall Street-crusading senator posture won't help her govern.
By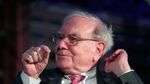 Warren Buffett thinks Elizabeth Warren would be more effective if she weren't so "angry."
"I think that she would do better if she was less angry and demonizing," the 84-year-old Berkshire Hathaway CEO said of the fiery Democratic senator, who has often articulated anti-Wall Street positions, on Monday, according to Business Insider. "I'm not sure that I've fully convinced Elizabeth Warren that that's the way to go."
Speaking on CNBC's Squawk Box, Buffett, an investment guru who gave his first-ever donation to an independent political group in December with a maximum-allowable $25,000 check to Ready for Hillary, said compromise is a better posture during a time of "divided government."
"It does not help when you demonize … the people you're talking to," he said.
Warren, a former Harvard law professor, has often denounced what she sees as lax oversight of the financial system and an overly close relationship between banks and the government, with outlets often calling her "angry" and "upset" in describing her stances.