The Straw Poll Choices at a Post-Fringe CPAC
A conference that did no harm to the 2016ers.
By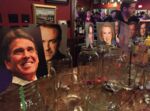 OXON HILL, Md. -- Sometime after 5 p.m. today, a winner will be announced in CPAC's annual straw poll. Every year, the media builds up to the poll with a healthy amount of cynicism; when the result comes out, the cynicism is replaced by breaking news chyrons. This year's especially lengthy poll contains 17 names, with an option to choose none of them. In the order they appear on the ballot:
Rick Perry
Ted Cruz
Sarah Palin
Bobby Jindal
Jeb Bush
Donald Trump
Carly Fiorina
John Bolton
Chris Christie
George Pataki
Rick Santorum
Scott Walker
Marco Rubio
Lindsey Graham
Ben Carson
Mike Huckabee
Rand Paul
Whoever wins will have conquered the mellowest CPAC in many years. Under the leadership of Matt Schlapp, elected to run the American Conservative Union after turns with George W. Bush's presidential campaign and Koch Industries, the conference has been low on intra-party on-stage fights, low on heckling, and totally absent some of the media debacles that have won coverage in the past.
For example: Columnist Ann Coulter, who has given zinger-laced speeches to packed CPAC ballrooms almost every year since she became a media star, was not invited. "I might just show up anyway just to piss them off," she joked to Washington Examiner reporter Eddie Scarry. "I could be the Bibi Netanyahu of CPAC." She didn't show up, and when asked if she had been invited, Schlapp diplomatically demurred.
"Ann Coulter is welcome at CPAC," said Schlapp in an interview. "We come up with the agenda. There's so many speaking slots; you go through who would be a good fit. She's a great fit here. She's welcome to be here." Asked again if Coulter was invited, Schlapp repeated himself: "She wasn't one of the speakers this year."
Fringe elements roamed the halls, as always. Phil Berg, the attorney who filed the first (2008) lawsuits against Barack Obama's citizenship, stalked the radio rows and personally appealed to reporters to cover his theories. But white nationalists who'd once gotten into CPAC or held meetings in the same hotel as the conference were largely consigned to the hinterlands. The National Policy Institute held an event featuring several thinkers denounced by the Southern Poverty Law Center, but it was at the National Press Club, a 30-minute drive from CPAC.
The Nation's Michelle Goldberg, covering her first edition of the conference in a few years, even warned that the "disturbingly sane" voices at the mic were helping the GOP rebrand itself. "There's a conspicuous absence of Hillary Clinton nutcrackers and other Instagram-ready right-wing kitsch," she wrote." Instead, at a cash bar party hosted by IJReview, National Review, and Facebook, there were thematic drinks for every major candidate.