Is Ben Carson the Most Popular Man at CPAC?
The draft Ben Carson movement swarmed the first half of CPAC, but that doesn't mean he's the new Rand Paul.
By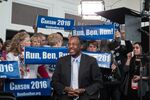 Subjectively, Ben Carson might be the most popular potential 2016 candidate at this year's Conservative Political Action Conference in National Harbor, Md.