This Torrenting App Is Too Good to Be Legal
Clean and simple, Popcorn Time has made illegal downloads easier than ever
By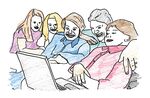 For more than a decade, pirating a movie or TV show using BitTorrent, the Internet's notorious file-sharing protocol, required a modicum of work and technical ability. You had to use a clunky program specially designed to seek out and decode pirated files, then learn to refine its search tools to find the videos you wanted. Annoying banner ads within the search program were part of the deal, as was occasional malware. Pirating wasn't just a pain for the Hollywood studios whose products were being passed freely around the Web; it was a pain for unscrupulous seekers of free video, too.
In the past year, a program called Popcorn Time has become the kinder, gentler face of piracy online, taming BitTorrent to make it far more user-friendly and less obviously sketchy. Free incarnations for PCs, phones, and tablets look pretty much like Netflix, Hulu, or Amazon Instant Video, except with vastly deeper catalogs that include theatrical releases such as Oscar winner Birdman and with little to no advertising. Those benefits have raised fresh concern in Hollywood and Silicon Valley. Although it's difficult to estimate total viewership of a pirate service, in Netflix's latest annual report to shareholders Chief Executive Officer Reed Hastings and Chief Financial Officer David Wells named Popcorn Time a major worry. The sharp rise of Google searches for Popcorn Time, Hastings and Wells wrote, is "sobering."
Netflix's Jan. 20 report included a chart showing that about as many people in the Netherlands search Google for Popcorn Time, which made its debut in March 2014, as for Netflix or HBO. As of Feb. 25, Google data show similar results for Italy, Portugal, and Spain. In the U.S., Popcorn Time grew by 336 percent from July to January and now accounts for one-ninth of the country's torrent traffic, estimates Ceg Tek International, a company that movie studios contract to find and stop copyright infringement. Netflix declined to comment for this story.
Popcorn Time's crisp grids of TV shows and movies, including the most recent episodes and blockbusters, use art straight from marketing posters. The service looks so professional that many viewers think it's legal, says Kyle Reed, chief operating officer of Ceg Tek. "Some people don't even seem to know that it's BitTorrent," he says. "We send out copyright infringement notices, and they question why they received them. It just looks like Netflix to some people."
Creating a less cumbersome wrapper for BitTorrent was the primary objective of Popcorn Time's anonymous developers, a group of friends in Argentina, says a Dutch blogger who goes by Ernesto van der Sar and runs TorrentFreak, a news site that covers file sharing. The creators abandoned Popcorn Time just a few weeks after its launch, writing on their website that they needed to "move on with our lives." In an e-mail later revealed by the hack of Sony's computer systems, the Motion Picture Association of America bragged at the time to Sony and other movie studios that it had "scored a major victory in shutting down the key developers of Popcorn Time" by coordinating with law enforcement on three continents. The MPAA declined to comment.
Nonetheless, Popcorn Time survived. Its code is open-source, so several other groups of coders quickly released versions after the site shut down. (Would-be viewers need to choose carefully; some of the knockoffs contain malware.) "We were users of the original and were sad to watch it go," wrote a developer of one of the spinoff versions, who answered an e-mail sent through his group's website and insisted on communicating through anonymous Internet chat software to protect his identity. "The amount of attention this project has been receiving is HUGE, ground breaking and way above anything we expected when we first picked it up."
The developers don't call themselves pirates. Asked about the consequences of making illicit file sharing easier, the anonymous developer claims Popcorn Time doesn't break any laws because it's just an index of other BitTorrent sites and doesn't host any pirated material. "The torrent world was here with millions of users way before us and will be here with BILLIONS of users way after us," he wrote.
Robert Red English, a developer of a separate Popcorn Time spinoff who communicated over Skype Instant Messenger from Ontario, also said the responsibility for obeying copyright laws should fall to users. "I'm not going to justify it," he wrote. "If it's stealing or not varies by country and each user is given the choice to use the program, and warned we use torrents. It's up to them to choose if they wish to continue."
That's a common defense among people who collect links to pirated videos, but judicial precedent doesn't back it up. The founders of Pirate Bay, a popular BitTorrent hub, made similar arguments in a Swedish court and received prison sentences. Older file-sharing networks such as Napster and Grokster shut down, because U.S. courts ruled that they were emboldening users to break laws. "If you are seen as encouraging people to infringe, then you have a copyright problem," says Corynne McSherry, the acting legal director of the Electronic Frontier Foundation, a nonprofit that advocates for consumer rights online. Users are also vulnerable to suits, she says, though most studios and other major rights holders no longer target individual viewers for redress.
Instead, the MPAA has for the past few months demanded that organizations such as EURid, the nonprofit that distributes .eu domain names, withdraw URLs from popular versions of Popcorn Time and that hosting company LeaseWeb withdraw the servers running them. The lobbying group has also sent takedown requests to sites such as GitHub, where programmers store the open-source code they're working on. GitHub declined to comment. The anonymous Popcorn Time developer says the added pressure is motivating him and his colleagues to finish a version of the software that operates entirely by connecting viewers' computers and doesn't rely at all on central servers. "When we release this, there will be nothing to be taken down again," he says.
Even if Popcorn Time's coders succeed in that effort, studios and legitimate streaming services will have at least one other way to answer its growing popularity: making sure legal alternatives are widely available, affordable, and desirable. In the U.S. and U.K., where Netflix and other legal streaming services are well established, Popcorn Time's Google search numbers are still way behind.
The bottom line: In a year, Popcorn Time has become the Internet's pirate service of choice, despite the MPAA's best efforts.
Before it's here, it's on the Bloomberg Terminal.
LEARN MORE