The Drug Pipeline Flows Again
More new drugs are getting approved, but innovation carries a huge price tag
By and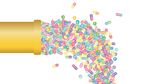 For decades, victims of advanced melanoma had few treatment options. Most died within a year from the virulent skin cancer. Now a new generation of biotech treatments—targeting proteins that allow cancer to evade the body's own defenses—is poised to change that. One new drug, Bristol-Myers Squibb's Opdivo, boosted one-year survival rates in trials to 73 percent from 42 percent for standard chemotherapy.
There's one problem with Opdivo: It costs $150,000 a year per patient. It and dozens of other cancer drugs are problematic for insurers and employers who are being asked to foot the bill. More than 30 cancer drugs that hit the market from 2010 to 2014 cost $5,000 a month or more, according to data from Memorial Sloan Kettering Cancer Center in New York. Express Scripts, which administers prescription benefits for 85 million Americans, considers cancer treatment one of its cost control priorities.
A decade after Big Pharma worried that it wouldn't have enough drugs in the pipeline to maintain the costly research-driven business, the industry is enjoying a rush of expensive breakthrough medicines promising treatment for everything from rare cancers to hepatitis C. That's put the drug industry at odds with those picking up the tab for medical science's successes.
The conflict threatens to slow the pace of future discoveries and patients' access to the drugs. Pharma stocks have dropped when Express Scripts and other pharmacy benefit managers have decided to favor cheaper drugs over pricey ones. Express Scripts ignited a price war in December for hepatitis C drugs when it excluded a new drug from Gilead Sciences that cost more than $1,000 a day from its main list of covered drugs. Instead it favored a competing medicine from AbbVie, which offered significant discounts to get the business. "The costs are just so staggering, the health-care system cannot sustain it," says Steven Avey, vice president for specialty programs at MedImpact Healthcare Systems, a prescription benefits manager.
Leonard Schleifer, chief executive officer of Regeneron Pharmaceuticals, which is working on a cholesterol-fighting drug, sees it differently. "You are going to stop people from innovating" if coverage is limited to drugs with the lowest prices, he says.

Drug coverage is approaching a breaking point, says Stephen Schondelmeyer, a pharmacist and economist at the University of Minnesota, who's been following drug prices for decades. "We can cut prices, cut the drugs that are covered, or cut the number of beneficiaries, and none of those are very palatable," he says. "All mean reduced revenue for the drug companies. We will have to do one or more of those three things at some point in the next five years."
The 41 new drugs approved in 2014 by the U.S. Food and Drug Administration were the most in 18 years. Nine received expedited treatment as FDA-designated breakthroughs, including Opdivo, Merck's rival melanoma treatment Keytruda, and two hepatitis C treatments: Gilead Sciences' Harvoni and AbbVie's Viekira Pak.
Scientific advances, more investment in biotech, and new FDA expediting policies are increasing the chances of more discoveries. Researchers at IMS Health, which tracks and sells prescription data, say about 30 to 35 drugs a year will come to market through 2018, vs. an average of 25 from 2000 to 2013.
None of the closely watched cardiology drugs that Regeneron, its partner Sanofi, Amgen, and others are working on have gained FDA approval, but they've already triggered cost alarms. Known as PCSK9 inhibitors, the drugs aim to mimic the effects of genetic mutations discovered a decade ago that reduce heart disease risk by as much as 88 percent by lowering levels of LDL, the bad cholesterol. In testing, the new inhibitors cut LDL by 60 percent.
CVS Health, the second-biggest drug benefits manager after Express Scripts, said in a blog post on Feb. 17 that some of the drugs are expected to be approved this year and stand to be "the highest selling class of medications in history," with annual sales as high as $150 billion, equal to about half of all current U.S. drug spending. "We will be attempting to address this with every approach that pharmacy benefit managers use," says Troyen Brennan, CVS's chief medical officer. Express Scripts has said it's considering all the options for how to cover the PCSK9 drugs and hasn't ruled out restricting coverage to just one of the drugs to get a discount. CVS says they will cost an estimated $7,000 to $12,000 a year, or as much as 60 times more than the generic statins that are typically prescribed to fight cholesterol.
Executives who get too aggressive with pricing risk big stock drops—and their jobs. Sanofi shares fell the most in 15 years on Oct. 28, when it said sales of its diabetes drugs would be little changed this year because it had to cut prices of its Lantus insulin medicine to stay on benefit managers' lists. CEO Chris Viehbacher, who had clashed with Sanofi's board over other issues, was ousted the next day.
Express Scripts dropped GlaxoSmithKline's asthma drug Advair from its main list of covered drugs in 2014 over pricing issues. U.S. sales of the drug fell 25 percent. Advair made it back onto the list this year after Glaxo lowered the price, according to Express Scripts spokesman David Whitrap. Still, sales of Glaxo's U.S. drugs and vaccines slumped 10 percent in 2014.
So far, the payer backlash isn't reversing the expensive trend. The average price of more than 5,000 commonly used prescription medicines rose 11 percent last year, a rate 14 times higher than that of U.S. consumer inflation, according to Truveris, a maker of software that analyzes prescription drug prices and benefits. IMS sees prescription spending in the U.S. growing to about $450 billion in 2018, from $329 billion in 2013.
In Europe, drug companies have long had to negotiate drug prices with governments. Since the financial crisis, pressures to keep prices down have increased. The U.K. has a state-run agency that advises its National Health Service on which treatments represent value for money.
"There is a lot of innovation on one hand, but the U.S. market is getting more challenging and more price-competitive," says David Redfern, chief strategy officer for GlaxoSmithKline. "It's not only one or two therapy areas; it's clearly moving out to other therapy areas." While the total number of applications to the FDA isn't going up, the medicines the agency reviews "are much more effective than we have seen in the past," says John Jenkins, director of the FDA's office of new drugs. Forty-four percent of drugs approved in the last three years are totally new classes of medicines, the agency says, vs. 27 percent from 1987 to 2001.

Jenkins cites Cosentyx, a psoriasis drug from Novartis, as an example of how effective new, targeted biotech drugs can be. In human tests, the drug almost completely cleared signs of psoriasis in most patients. The drug, which was recently approved, is likely to be priced similarly to other psoriasis drugs costing $30,000 a year or more, says David Epstein, head of Novartis's pharmaceuticals unit. But he says he's prepared for a price war when drugs from Amgen, its partner AstraZeneca, and Eli Lilly hit the market.
In cancer, "it wasn't that long ago" that the FDA was being asked to approve drugs that shrank tumors in only 10 percent to 15 percent of patients, the FDA's Jenkins says. "Now we are seeing drugs with a 50 to 60 to 70 percent response rate." The pricing pressure is aggressive and challenging, according to Glaxo's Redfern.
"From a scientific standpoint, it has never been a more exciting time," says Steve Miller, chief medical officer of Express Scripts. "But how are you going to pay for it?"
The bottom line: Drugmakers are enjoying a rush of new medicines, but their high costs threaten the pace of innovation.
(Updates previous version of this story.)
Before it's here, it's on the Bloomberg Terminal.
LEARN MORE