Intel Buys Its Way Deeper Into China
The company is spending billions on factories and state-owned rivals
Christina Larson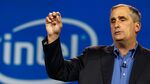 Although Intel is the world's leading maker of chips for PCs and servers, the company has long struggled to land a significant piece of the mobile market, where Qualcomm dominates. Last year, Intel took in $55.9 billion in revenue, up 6 percent from the previous year; its mobile division accounted for $202 million. It may well be too late for Intel to catch up in the U.S. or Europe, where just about everyone who's going to buy a smartphone or tablet already has one with a rival chip inside. So instead of battling for the next iPhone contract, the company is pouring billions of dollars into expanding its influence in China, where fewer than half the country's roughly 500 million mobile phone users have smartphones.
Intel, which doesn't break out mobile earnings figures for China, has a long way to go before it's a serious force in the country's mobile market. Qualcomm chips are in most high-end phones, including those from Chinese leader Xiaomi, and Taiwanese company MediaTek controls the cheaper end of the market. At this point, the chip market in China is a duopoly, says Mark Hung, an analyst at researcher Gartner. Even if Intel reaches third place, "No. 3 is probably meaningless."

Nevertheless, Intel has in fits and starts tried to use its relationship with PC clients in China to nose its way into mobile devices over the past few years. The company supplies chips for Chinese-owned Lenovo, the No. 1 global PC seller, and its hardware powers a handful of Lenovo smartphones. Intel's partnership with Chinese Internet giant Tencent, which includes a joint research center, helps ensure that the WeChat maker's software works smoothly with Intel chips, says Rupal Shah Hollenbeck, Intel's general manager for China. "A lot of basic relationships have started in the area of software and services," she says.
Intel paid $1.5 billion in September for a 20 percent stake in state-run Tsinghua Unigroup, which controls two domestic mobile chipmakers. That may be double what Intel needed to pay, given that the leading Chinese chip company, Semiconductor Manufacturing International, has a market valuation of about $3.2 billion. In December, Intel said it would pay $1.6 billion to upgrade its factory in the central Chinese city of Chengdu, which cost $300 million to build a decade ago. The plant, designed for back-end testing, will absorb some of the work previously done in a shuttered Costa Rican facility. Shah says it's part of a plan to shift more of Intel's resources toward China and to make more of its operations there as new and shiny as its $2.5 billion plant in Dalian, a port city in China's northeast.
The investments will help Intel work its way further into the local supply chain and better understand Chinese consumers, says Shah, a 20-year veteran of the sales and marketing division. Those relationships may become more significant as Intel's dominance of the PC market becomes less valuable, says Zennon Kapron, the founder of financial researcher Kapronasia in Shanghai. "Growth from partnering with expanding Chinese companies early on could certainly help Intel offset losses as the market for traditional PCs continues to soften," he says.
In the next battles for chip contracts, which will likely include many wearable-tech makers, a focus on emerging Chinese startups could give Intel a leg up, says Neil Wang, an analyst and partner at market-research firm Frost & Sullivan. "Neither Intel nor Qualcomm has any advantages in this new wave," he says.
Intel may be more favorably treated by Chinese regulators because of its stake in Tsinghua Unigroup—as well as its willingness to build high-end local labs. So far, Intel hasn't been touched in China's crackdown on foreign companies. Qualcomm spent more than a year negotiating with antitrust authorities before agreeing to pay $975 million to settle allegations that it used its control of the chip market to charge inflated licensing fees. During that time, the company cut its earnings forecast as Chinese customers held off paying its fees. "Although Qualcomm is disappointed with the results of the investigation, it is pleased that the [government] has reviewed and approved the company's rectification plan," Qualcomm said in a Feb. 9 statement announcing its settlement. The government has also investigated Microsoft for alleged antitrust violations and antivirus maker Symantec for allegedly building spying capabilities into its software.
"You want to be in the good graces of the Chinese government," says Gartner's Hung, who calls Intel's Unigroup investment "good business sense." Kapron says Microsoft had to build research labs in China and work with universities before the government began making sure it got paid for some of the copies of Office programs circulating throughout the country.
Intel will also need to keep spending, Kapron says. Intel head Shah says she uses much of her energy identifying promising local startups she can spur along with some funding from the company's investment arm, Intel Capital. "If we don't start relationships with them now, we will get behind," she says. "Until less is more, more is more."
The bottom line: Intel is spending billions in China in an effort to catch up with dominant mobile chipmaker Qualcomm.
Before it's here, it's on the Bloomberg Terminal.
LEARN MORE