Immigration Foes Have Numbers, but No Strategy
Republicans like Senator Ted Cruz have been oddly quiet in the latest fight over whether to pass clean DHS funding.
By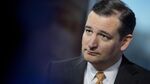 On Tuesday, the Federation for American Immigration Reform, which opposes President Obama's various executive actions on undocumented workers, released a slew of new polls. They captured opinions from red or purple states that had elected Democratic senators—Indiana, Missouri, Nevada, North Dakota, Virginia, West Virginia, Montana, Maine. In every case, voters told Zogby Analytics pollsters that they would side with the legislators trying to undo the president's orders.