Conservatives Wield 'Well-to-Do' 'Jihadi John' Against Obama
The ISIS militant turns out to have been an educated Londoner, stepping on the president's portrayal of terrorism.
By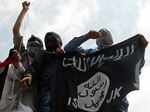 After reports on Thursday purported to identify a notorious Islamic State executioner as a "well-to-do" British national, conservatives say it's more evidence of terrorism's global reach and the Obama administration's ineffective approach to fighting the group.
The executioner, nicknamed "Jihadi John," is named Mohammed Emwazi, "grew up in West London and graduated from college with a degree in computer programming," the Washington Post reported, citing "friends and others familiar with his case."
Former House Speaker Newt Gingrich said he plans to address the revelation during his speech Friday at the annual Conservative Political Action Conference near Washington. "Jihadi John is proof that i will expand on in my 8 am friday CPAC speech," Gingrich tweeted. "He is proof the war with Radical Islamists is global."
On Feb. 19 at the State Department, President Obama said that the link between oppression and violent extremism is "undeniable." A spokeswoman for the State Department, Marie Harf, faced sharp criticism for saying on Feb. 16 that "if we can help countries work at the root causes of this, what makes these 17-year-old kids pick up an AK-47 instead of trying to start a business, maybe we can try to chip away at this problem, while at the same time going after the threat."
Conservatives on Thursday said different versions of "I told you so." After Fox & Friends reported the story, hosts Brian Kilmeade and Elisabeth Hasselbeck noted the contradiction.
"It's just a matter of getting these rich people jobs," Kilmeade said sarcastically. "If you just get the rich, privileged people with computer degrees jobs, we wouldn't have a problem."
Fox Business personality Lou Dobbs tweeted that Emwazi is a "perfect Fit for Obama's Empathy/Jobs Program." 
And Jeffrey Goldberg, a national correspondent for The Atlantic, rang the same bell in his own way, tweeting about "yet another jihadist not radicalized by poverty."