business
The People Who Are Willing to Destroy Their Credit on Principle
The 15 Corinthian Colleges alumni who are refusing to pay back their student loans grabbed headlines, but are probably making things worse for themselves
By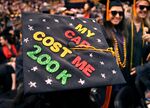 Student loans, especially when they come from the government, are a lot like bedbugs: Once you have them, they're almost impossible to get rid of. Unlike other debts, the government essentially doesn't allow people to discharge student loans in bankruptcy, and there's no statute of limitations on these loans, so if you don't pay them back, they will stick around as long as you do.
On Monday, 15 former students announced they'd had enough of that particular nightmare and were going on a "debt strike" until the government canceled their student loans. The so-called Corinthian 15 took out federal loans to attend colleges run by Corinthian Colleges, a for-profit company that has agreed to close or sell all of its schools amid investigations into wrongdoing by multiple state attorneys general.
The campaign peels the cover off a long-simmering headache for the Department of Education, which has forgiven most of the private loans that Corinthian sold students, but has not granted relief to the people who owe the government for their time at the disgraced for-profit colleges. 
"These students are tired of waiting for policymakers, elected officials, and corporate executives to do the right thing," says Ann Larson, an organizer with the Debt Collective, a group that spun off from the Occupy Wall Street movement and is providing legal counsel to the striking students. Larson says more student debtors have already expressed interest in joining the effort, and expects that hundreds more will be striking alongside the original 15.
Refusing to pony up on student loans is a tactic that has grabbed headlines, but is unlikely to result in any relief for students, and may even make things worse, experts say.
"They are taking a huge risk," says Robyn Smith, a lawyer with the National Consumer Law Center. "Not only will [a default] affect their credit report, but the government has draconian debt-collection abilities." When someone goes into default on their student loans—meaning they have failed to make payments for at least 270 days—the government can skim money from their tax return and wages to repay the loan. The government can also charge the borrower collection fees of up to 25 percent of the interest and principal of the loan, says Smith, adding to an ever-expanding pile of debt.
About a quarter of Americans whose student loans became due in the last decade have gone into default, according to the Federal Reserve Bank of New York. That type of involuntary debt strike can be financially ruinous, the New York Fed says, making it more expensive to take out any other kind of loan and putting home purchases out of reach.
Refusing to pay student debt seems especially dangerous in light of the government's long-standing aversion to giving people a way out of student loans. "There's always a reticence to create a precedent that would make it easier to not repay student loans," says Ben Miller, an education expert at the New America Foundation. The government will probably be more concerned with protecting its long-term ability to effectively collect on student debt than the immediate hardship faced by Corinthian alums.
Education Department spokeswoman Denise Horn said in emailed comments that the department was working to protect duped students and hold Corinthian accountable. "We also encourage borrowers to continue paying their student loans," she added, "in order to avoid risking the serious consequences of default."
A strike on Corinthian debt may be a win for activists who want justice for people stuck with bad debt and a worthless degree, Miller says, but it will come with very real costs. "The consequences for the students are certainly not symbolic."
Before it's here, it's on the Bloomberg Terminal.
LEARN MORE