Elizabeth Warren Starts a New Project, But Few Take Notice
The senator launches the Middle Class Prosperity Project with Maryland Representative Elijah Cummings.
By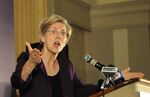 On Tuesday afternoon, only 91 people were watching Senator Elizabeth Warren's live stream on YouTube when she asked Jared Bernstein of the Center on Budget and Policy Priorities a pointed question about retirement and savings. That's not many viewers, nor was it the sexiest subject. But Warren, wearing a forceful and perhaps symbolic purple while presiding over the first congressional forum of her Middle Class Prosperity Project, doesn't seem to mind. She's comfortable being far from the action.