Bullish on Rubio, Spencer Zwick Sees Clinton Raising $1.7 Billion for 2016
The man who helped Mitt Romney raise half a billion dollars offers an overview of the 2016 field.
By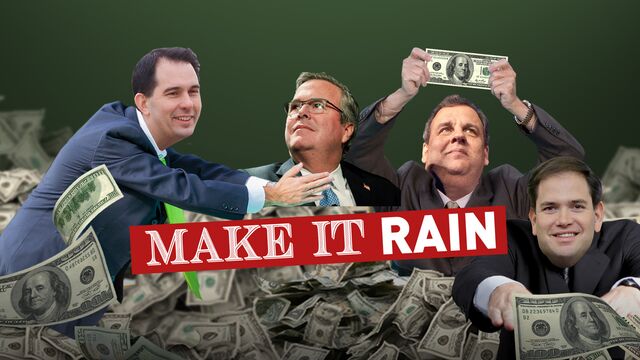 The man who helped Mitt Romney raise half a billion dollars in his unsuccessful 2012 presidential run says Hillary Clinton is poised to rake in more than three times that amount in the 2016 campaign. 
During a Tuesday interview on Bloomberg Politics' With All Due Respect, Spencer Zwick, the co-founder of Solamere Capital and Romney's former finance chair, said that as a crowded Republican field battles it out for the party's nomination, an unchallenged Clinton will be busy amassing a unprecedented war chest for the general election. 
"Hillary Clinton is going to have $2 billion dollars, or at least from my calculation $1.7 billion if you look at the various entities," Zwick said. "Who is going to be able to go up against that? Is it going to be someone that's new and hasn't had the opportunity to have their message tested, or is it going be someone like Jeb Bush who is able to pull the money together very early and raise more than a billion dollars?"
Zwick pointed to the handful of super-PACs that have already sprung up under the Clinton banner as a sign that the Democrat would raise a record amount of money in 2016. 
"What's interesting about Hillary is that the outside groups have already started even though there's no campaign. You look on the Republican side, it takes a candidate or a likely candidate to get one of those groups started. There are four of five outside groups that will actively play a different role in promoting or defending Hillary Clinton's candidacy," Zwick said, adding, "They are going to be incredibly organized. I can't imagine the scenario where they don't have at least $1.5 to $2 billion between the campaign and those outside groups."
But Zwick, who is actively being courted by many of the potential GOP candidates, said many in the Republican field would be able raise enough money to navigate the primary election, and go on to thwart Clinton's presidential ambitions.  
"Clearly Governor Bush is going to have bundlers and large donors fully on board, he already does," Zwick said. "I think Marco Rubio is going to excite a lot of people in Florida as well as other parts of the country, people are excited about his candidacy and are willing to write big checks. I don't think you can write off Governor Christie. Scott Walker clearly has great support, so there you have four right there that are going to be able to raise sufficient money in my opinion to run incredible primary campaign."
A staunch Romney backer who was disappointed when the former Massachusetts governor decided to step aside in the upcoming presidential race, Zwick declined to say which candidate he would work for in 2016. It was clear, however, that Florida Senator Marco Rubio was at the top of his list. 
"I would say this about Marco Rubio, on the 2012 campaign one of my jobs was to identify surrogates who could travel the country without the candidate, without Mitt, and raise money on their own, and it didn't matter where we sent Marco Rubio," Zwick said. "First of all, he was very willing, very eager to help Governor Romney, which was very much appreciated, but when he would go places, the crowd was electrified. They loved having him there. He was able to raise money, he had grassroots support. It didn't matter where we'd send him. People were excited to have Marco Rubio."
Pressed by host Mark Halperin over whether he was, in fact, more enthusiastic about Rubio than the other Republican contenders, Zwick offered a line that the Florida senator could consider as a potential campaign slogan.
"I think Marco Rubio has the potential to catch lightning in a bottle," Zwick declared. 
Still, Zwick did not rule out his former employer's return to the race.
"I bleed Romney," Zwick said, adding, "If he thought there was a need, and that his party needed him to be able to defeat Hillary Clinton, I know that he would be there if called upon. But I also take him at his word that he wanted to give other people an opportunity who hadn't had the opportunity to get their message out there, but if needed would he be there? There's no doubt in my mind."