New York Times Reporter Contradicts O'Reilly's War Claims
A New York Times journalist who witnessed the same events as the Fox News star slams him for selective quoting in his defense of his reporting of a 1982 protest in Buenos Aires.
By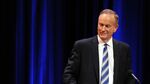 Since last week, Bill O'Reilly has faced questions over what, if any, violence he witnessed while reporting for CBS News from Buenos Aires in the aftermath of the Falklands War. O'Reilly has repeatedly said troops fired into the crowd and any claim otherwise is part of a smear; Mother Jones reporter David Corn, now backed by a group of O'Reilly's former CBS News colleagues, say they never saw that, according to CNNMoney.