New York Times Reporter Contradicts O'Reilly's War Claims
A New York Times journalist who witnessed the same events as the Fox News star slams him for selective quoting in his defense of his reporting of a 1982 protest in Buenos Aires.
By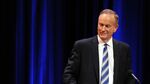 Since last week, Bill O'Reilly has faced questions over what, if any, violence he witnessed while reporting for CBS News from Buenos Aires in the aftermath of the Falklands War. O'Reilly has repeatedly said troops fired into the crowd and any claim otherwise is part of a smear; Mother Jones reporter David Corn, now backed by a group of O'Reilly's former CBS News colleagues, say they never saw that, according to CNNMoney.
But on Sunday, O'Reilly escalated the counter-offensive, quoting an ideological enemy, the New York Times, at length in his own defense. According to transcripts:
This is the article written by Richard Maslen [sic] on June 15th 1982, and I'm quoting, "policemen firing tear gas tonight dispersed thousands of angry Argentines who had massed in front of the presidential palace to condemn the government surrendering to the British on the Falkland Islands. As the crowed chanted increasingly bitter invectives at the government before the speech, reflecting sorrow, anger, and disbelief for the public here over the loss, police in riot gear moved in, firing tear gas canisters and roaring through the plaza on motorcycles. Hundreds fled to the side streets shouting obscenities, as the police fired gas. Others ripped down wooden street signs and set them on fire in the plaza.....
Anyone disagreeing with him, O'Reilly said, would have to go up against the paper of record. "They reported that," he said.
But the very reporter who wrote the story, Rich Meislin, pointed out a glaring omission in a Facebook post on Monday morning. 
I wrote: "Chants of 'Argentina! Argentina!' and the whine of police sirens echoed off the buildings of the business district as police trucks moved in. One large gray van pulled into an intersection a block from the plaza, and policemen emerged, seizing anyone they could. One policeman pulled a pistol, firing five shots over the heads of fleeing demonstrators."

When he read it on Howard Kurtz's Media Buzz show, O'Reilly left out that the shots were "over the heads of fleeing demonstrators." As far as I know, no demonstrators were shot or killed by police in Buenos Aires that night.
On Twitter, Meislin put a finer point on things. "War zone?," he wrote, "No." (His full article published in 1982 is here.)
During the program, O'Reilly also zeroed in on former CBS correspondent Eric Engberg, who has been outspoken in his critique of O'Reilly, saying Engberg stayed in the hotel during the events.
"I'd like everybody to ask him, 'Where you there?'" O'Reilly said on Fox on Sunday. "Because his reputation, his nickname, was 'Room Service Eric,' that he never left the hotel."
The scorcher prompted Baltimore Sun media critic David Zurawik to remark that the fight had grown.
"'Room Service Eric?' This is a really fierce battle now," Zurawik said on the same program. "This is Culture War stuff going back and forth."
Engberg had previously stated in a Facebook post that "was not a war zone or even close. It was an 'expense account zone.'" But he maintained he hustled out to the Plaza de Mayo with O'Reilly. 
"What he just said is a fabrication, a lie," Engberg told CNN on Sunday. "Nobody stayed in the hotel room because they were afraid."
O'Reilly said he had requested his 1982 footage from CBS and believed he would get it in time to air it on his show on Monday evening.