politics
Walker Says Obama Religion Question Is Why People Hate the Media
The likely White House candidate says that he doesn't know if the president is a Christian and that it's silly for reporters to ask.
By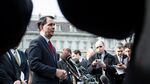 Scott Walker: Wisconsin governor, likely presidential candidate, media critic.
Facing reporters at a National Governors Association meeting in Washington on Saturday, the Republican reportedly said he didn't know whether President Barack Obama was a Christian ("I've actually never talked about it or I haven't read about that")—then turned the attention back on his questioners. 
"To me, this is a classic example of why people hate Washington and, increasingly, they dislike the press," he said, according to the Washington Post. "The things they care about don't even remotely come close to what you're asking about."
"I would defy you to come to Wisconsin," he added. "You could ask 100 people, and not one of them would say that this is a significant issue."
Spokeswoman Jocelyn Webster followed up with the Post to say that "of course the governor thinks the president is a Christian." But to underscore her boss's earlier point, she added: "He thinks these kinds of gotcha questions distract from what he's doing as governor of Wisconsin to make the state better and make life better for people in his state."
Walker has been under increased scrutiny since attending a dinner in New York on Wednesday where former Mayor Rudy Giuliani said, "I do not believe that the president loves America."
On Sunday, Walker declined to elaborate on his Obama remarks.
"I'm here to talk about governors' policies today and I'll leave those comments from yesterday where they are at," he said.
Terrence Dopp contributed to this report.
MORE FROM BLOOMBERG POLITICS
Before it's here, it's on the Bloomberg Terminal.
LEARN MORE