Here's What the DNC Thinks Will Help Democrats Win More Elections
The party's post-2014 midterm election autopsy calls for a "values-based" narrative and more outreach to white Southern voters.
By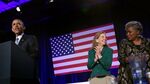 Four months after losing the 2012 presidential election, the GOP released a 100-page so-called autopsy report, an analysis of what went wrong and how to fix it. Among other things, the report said that the Republican Party was having difficulty convincing voters outside the party that it cared about them. Two years later, in its own self-examination, the Democratic National Committee says that Democrats themselves have a messaging problem: no one knows what the Democratic Party stands for.
"It is strongly believed that the Democratic Party is loosely understood as a long list of policy statements and not as people with a common set of core goals," reads the party's 2014 preliminary autopsy, released Saturday at the DNC's winter meeting in Washington.
The DNC's report, nine pages including a front and back cover, lays out several party goals. They include: launching a "National Narrative Project" to create a "values-based" message to appeal to voters; strengthening relations with state parties, winning state legislatures ahead of the 2020 redistricting; and finding more candidates at the state, local, and federal level.
The report also calls on the party to win back white Southern voters, and to build support for an explicit right to vote in the constitution. On Saturday, the DNC unanimously passed a resolution supporting a constitutional amendment protecting every individual's right to vote at its winter meeting.
The autopsy was criticized online by reporters and Republicans for containing typos, lacking substantial policy suggestions, and explicitly calling for an improvement of party "narrative," a word that holds a negative connotation for the Democrats' critics. And Reince Priebus, the Republican National Committee chairman, also tweeted about the page count. 
In a longer statement in response, the RNC argued that the DNC autopsy showed that the party wasn't willing to admit why it lost so many seats last fall. "The first step toward fixing a problem is admitting that you have one, but it's clear the DNC isn't willing to come to terms with why their party lost in historic fashion last November," RNC spokesman Michael Short said in a statement, according to Time magazine. "The reality is their divisive message doesn't resonate and their liberal policies don't work."
The DNC plans to release an in-depth plan for the party through the 2022 election this May. Until then, DNC Chairwoman Debbie Wasserman Schultz, a Florida representative, says, the party is ready for criticism. "This morning we're going to hear some tough love, and frankly we need to hear it," she said on Saturday.