Swing-State Voters Not Feeling Community College Plan or Obama In General, Poll Says
In Iowa, Virginia, and Colorado, voters say they are ready for a change.
By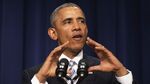 Iowa voters oppose President Barack Obama's free community college plan by a 15-percentage-point margin, according to a Quinnipiac poll released Thursday. 
The president in his State of the Union address last month proposed making community college free for more students. The poll found that 55 percent of Iowa voters disapprove of the plan and 40 percent approve. In Virginia, voters were more closely divided, with 51 percent opposed to the plan and 45 percent in support of it. In Colorado, voters were pretty much tied, with 49 percent against the plan and 46 percent for it.
Obama won all three of those swing states in 2012, but today voters there say they want the next president to take the country in a different direction—in Iowa, 58-34 percent; in Virginia, 61-31; and in Colorado, 58-34.
These could be signs of challenges Hillary Clinton would face if she seeks the Democratic nomination to succeed Obama in 2016. One bright spot in the poll for Democrats: Obama's proposal to raise taxes on the wealthy in order to finance middle-class tax cuts is popular in all three states. In Iowa, the state that traditionally kicks off the presidential nominating contest, voters support the plan 64-30 percent; in Virginia, 56-39; and in Colorado, 57-37.
Quinnipiac surveyed voters Feb. 5-15 by phone, with a margin of error of plus or minus 3 percentage points in each state.