Neoconservativism Is Down But Not Out of the 2016 Race
The two frontrunners in the 2016 presidential campaign—Jeb Bush and Hillary Clinton—both have ties to neoconservatism.
By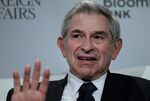 Ahead of his foreign policy speech in Chicago on Wednesday, Jeb Bush released a list of 21 familiar foreign policy advisers joining his staff. Nineteen of the names would have been familiar to foreign policy wonks (they'd served under one of more of the last Republican presidents) but only one brought back memories of the neoconservative movement that led the U.S. into Iraq: Paul Wolfowitz.